---
Ukraine's Military Resources Are "Almost Exhausted", Russian Defense Chief Says
Russia's defense minister Sergei Shoigu in fresh remarks before a security conference in Moscow acknowledged that while the special military operation in Ukraine has been a real test for Russia, the reality is that Ukraine's ability to fight and its resources have been "almost exhausted". 
He further said the Russian military has learned much about the West's advanced weapons systems in the process. "In the special military operation, the Russian army has debunked many myths about the superiority of Western military standards," he said in the rare public speech, as cited in Reuters.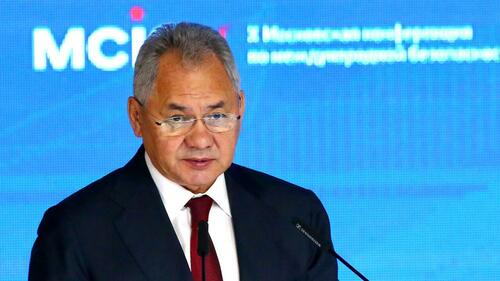 "The preliminary results of combat operations show that Ukraine's military resources are almost exhausted," he emphasized at one point, but without providing further specifics.
Importantly, China's own defense chief, Li Shangfu, was in the audience for the event. The Kremlin has recently said that a Putin trip to Beijing to meet with President Xi Jinping is "on the agenda", to happen by year's end.
Shoigu during the speech touted the large numbers of Western-supplied tanks and armored vehicles that have been taken out on the Ukrainian battlefield. 
"We have data on … the destruction of German tanks, American armored vehicles, British missiles and other weapons systems," he said. "We are ready to share our assessments ... with our partners." 
Likely he had China in particular in mind, also as he followed by comparing the West's deep involvement in Ukraine to the Taiwan situation. He then said: "Under these conditions, bilateral relations between Russia and China have surpassed the level of strategic ties in all respects, becoming more than just allied."
While time may soon tell whether or not Ukraine's defenses are "almost exhausted" - it has become very clear that the counteroffensive is not going well, and Biden's 'all in' support to Kiev is becoming politically unpopular and an additional liability for Democrats going into the 2024 presidential election.
Perhaps the biggest geopolitical legacy of the Ukraine war will be strengthening the China-Russia relationship. https://t.co/yxOspAZJJT

— Max Abrahms (@MaxAbrahms) August 15, 2023
Another key part of the Russian defense chief's speech touched on nuclear weapons. He blasted allegations by the West that Putin is ready to use them: 
"From a military point of view, there is no need to use nuclear weapons in Ukraine to achieve the set goals," Shoigu said at an international security conference in Moscow.

He slammed media speculation that Russia could potentially use nuclear or chemical weapons to compensate for slow progress in its nearly six-month military campaign in Ukraine as "absolute lies."
Alarmist headlines related to the potential for nuclear apocalypse in international press reports grew especially after Moscow moved tactical nuclear weapons into neighboring Belarus. The Kremlin, however, noted the US had long kept nukes in Europe and Turkey under NATO's nuclear-sharing arrangement. Russian officials have also emphasized that nuclear doctrine has not changed.
Loading...