---
Ukrainian Church Leader Given 5 Years In Prison For Being Seen As Sympathetic To Russia
In yet another example highlighting the Zelensky's government's stance on "religious freedom" and democratic rights, a senior clergyman of the Ukrainian Orthodox Church has been sentenced to five years in prison after he was accused of 'justifying' Russian aggression against Ukraine. Regional media has identified the bishop as Metropolitan Jonathan of Tulchin.
The dominant Orthodox church in Ukraine to which he belongs—which has frequently criticized the Russian invasion but has not broken communion with the Moscow Patriarchate (The Russian Orthodox Church)—has of late come under severe persecution by the state, with its clergy and monastics seen as "sympathetic" to Moscow.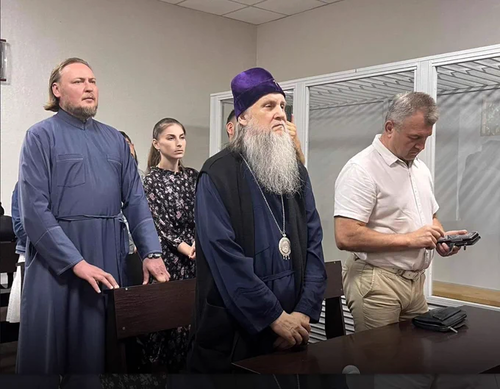 Regional media says that Metropolitan Jonathan will see property confiscated which was under his oversight. Ukraine authorities have already seized several churches and monasteries on accusations of cooperating with Russia. 
Other clergy members have also seen jail time or have been placed under house arrest, or else harassment by mobs of far-right Ukrainian nationalists, most often for merely calling for peace between the two countries. 
According to a regional Orthodox church source: 
Meanwhile, His Eminence Metropolitan Pavel of Vyshgorod, the abbot of the Kiev Caves Lavra, was finally released from custody on bail today.

Met. Jonathan, however, will be held under nighttime house arrest until the verdict enters into force. His Eminence has repeatedly denied all charges against him and will file an appeal "against the clearly illegal verdict of the Vinnitsa City Court."
The same source states he was found guilty of the following Ukrainian laws:
justification, recognition as lawful, denial of the armed aggression of the Russian Federation against Ukraine, glorification of its participants

actions aimed at forcibly changing or overthrowing the constitutional order or seizing state power

encroachment on the territorial integrity and inviolability of Ukraine, distribution of materials calling for changing the borders of the territory and state border of Ukraine

violation of equal rights of citizens depending on their race, nationality, regional affiliation, religious beliefs, disability, and other grounds
This week, reports and video also emerged of a Ukrainian Catholic priest coming under persecution for merely holding a "prayer for peace"...
Here is an English translation of a portion of the 3:48 minute video above. The Greek Catholic priest prayed for reconciliation between Ukraine and Russia. Someone then demanded the priest "retract" his prayer for peace. The priest refused to retract his words and said that… pic.twitter.com/i0rB0fMpwW

— Live Not by Lies (@Dana35300026) August 8, 2023
Likely we have not seen the end of church seizures and the arrests of clergymen, as Zelensky is now waging war not just on the invading Russians, but on Orthodox Christians within Ukraine itself.
Loading...