---
US Deploys F-16 Squadrons To Persian Gulf To 'Protect Ships' From Iranian Seizures
The US is deploying additional F-16 fighter jets to the Strait of Hormuz to "protect ships from Iranian seizures," a senior Pentagon official told reporters on Friday, adding that Washington is "increasingly concerned" about burgeoning ties between Iran, Russia, and Syria.
The unnamed official told Pentagon reporters on condition of anonymity that the F-16s will provide air cover to cargo vessels moving through the strategic waterway and "increase the military's visibility" of Iranian operations.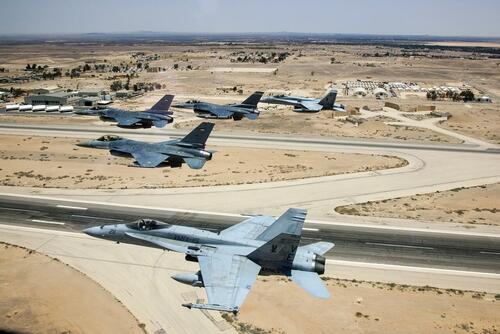 Iran last week attempted to seize two foreign-flagged fuel tankers in Gulf waters that were involved in fuel smuggling operations, and a third Tehran says was involved in a hit-and-run incident.
"On 6 July, Revolutionary Guards' Navy personnel were inspecting a ship with the name NADA 2 that was involved in smuggling Iranian oil and gas in the Persian Gulf, which the US sought to prevent through a series of unprofessional and risky actions," Ramazan Zirrahi, a commander in the Islamic Revolutionary Guard Corps (IRGC) navy told Iranian media earlier this week.
"The Americans flew several aircraft, including two A-10 fighters, and tried until the last moment to prevent the seizure of the vessel, but it was eventually brought to Bushehr port for legal procedures," Zirrahi added. He also revealed that the crew of the NADA 2 were instructed by US officials to "switch off the engine and wait for the American military forces to come for help."
Besides deploying a new fighter jet squadron to the Gulf, the Pentagon official said Washington is "considering a number of military options to address increasing Russian aggression in the skies over Syria," adding that the US occupation army "will not cede any territory".
Over the past several months, Pentagon officials have bemoaned the Russian air force's increased activity over US occupation bases and their "harassment" of US warplanes and drones.
The most recent incident occurred on Friday morning when a Russian aircraft flew over Washington's Al-Tanf base in eastern Syria, where US forces train extremist groups to fight against the Syrian government. The Russian An-30 aircraft was reportedly collecting intelligence on the base.
France last week also accused Russia of conducting a "non-professional interaction" with two Rafale fighter jets flying near the Iraq-Syria border.
These events took place days after the Syrian and Russian armies launched the latest round of joint drills to "exercise control" over Syria's airspace and examine "the effectiveness of Russian air defense means in the country."
Loading...