---
US-Iran Reach Prisoner Swap Deal, Tehran To Gain Access To $6BN In Oil Revenue
The United States and Iran have reached a rare prisoner swap deal which will reportedly lead to the freeing of five Iranian-American dual citizens, and in exchange Tehran has been guaranteed access to an estimated $6 billion in its own blocked oil revenue. The US is also expected to release an unspecified number of jailed Iranians.
The New York Times is describing that it is the culmination of two years of behind-the-scenes diplomatic negotiations. The American have yet to be released, but are said to have been moved from Iran's notorious Evin Prison, and placed into house arrest as a first step. 
"The move by Iran of the American hostages from Evin Prison to house arrest is an important development," a lawyer for Siamak Namazi, one of the Americans released, said. 
Most of the detained were arrested and imprisoned on the usual Iranian allegations of spying and espionage, though no evidence of these alleged crimes have been made public. 
So far the US-Iranian citizens Emad Sharqi, Murad Tahbaz, and Siamak Namazi are believed part of the transfer, while the two additional names weren't immediately made public.
They are currently said to be under guard at hotel in the Iranian capital.
One can't help but wonder at the timing of this decision. With wholesale gasoline and crude prices soaring, the American public is about to be hit by another pocket-book-crushing surge in pump prices. President Biden has emptied the SPR and the Saudis are no longer America's friend (in fact the opposite). So why not throw some cash to Iran and allow them to open up their spigots...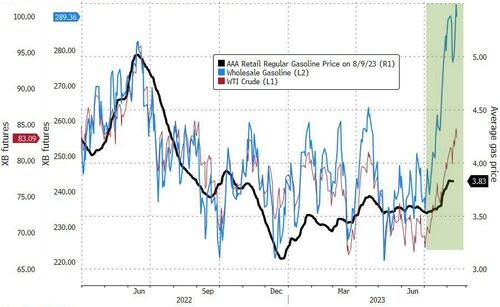 Crude prices have been falling since the Iran deal rumors began...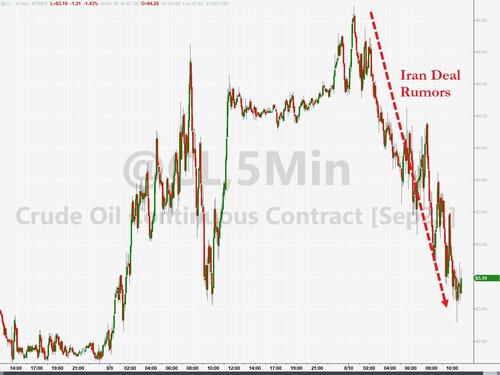 Iran's state-run Tasnim is reporting that the prisoner exchange is expected to happen after the fund transfer, of what were previously sanctioned and frozen oil revenue accounts.
Loading...