---
US-Iran Secret Talks On Nuclear Program, Prisoner Exchange Confirmed, After White House Denial
The day after Israeli Prime Minister Benjamin Netanyahu said his country "will not be bound" by any nuclear deal the US may potentially reach with Iran, new reporting in The Wall Street Journal has confirmed secretive efforts between Tehran and Washington to work toward reaching an 'interim deal' regarding the Iranian nuclear program. It's being seen as a fresh effort to gain the release of American prisoners held by Tehran and curb the Islamic Republic's nuclear program, but short of actually restoring the 2015 JCPOA.
Recently, Axios and some Middle East regional outlets reported on meetings in Oman, which were dubbed "proximity talks" - or what was the first known indirect engagement between the US and Iran in many months, for which White House Middle East coordinator Brett McGurk traveled to Oman on May 8. Still, the administration tried to downplay the initial Axios reporting as misleading and inaccurate.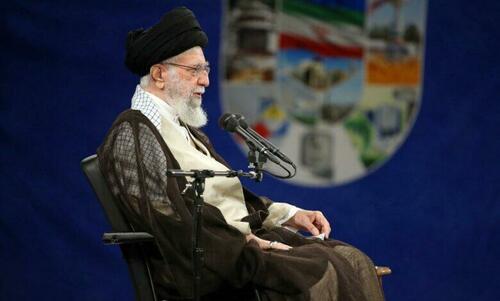 The WSJ on Wednesday has revealed three ongoing sets of proximity talks involving top officials in Oman, as well as talks in New York involving Iran's ambassador to the UN. One of the truly "new" aspects is a US attempt to negotiate the return of Americans held in Iranian prisons.
All of this contradicts the Biden admin's statements of denial, given how significant these efforts are, as they also involve top officials. Interestingly, both the Iranian and American sides have formally denied hat an interim agreement is on the table.
"We have exchanged messages with the United States through Oman, and this continues," Iranian foreign ministry spokesperson Naser Kanani told reporters at the beginning of the week while rumors swirled. 
But he stressed that "There is no interim or alternative agreement that can replace the JCPOA." The Joint Comprehensive Plan of Action would have lifted sanctions in return for monitored limits places on Iran's nuclear program. 
The WSJ headline resulted in oil prices briefly fading on the confirmation of secret talks...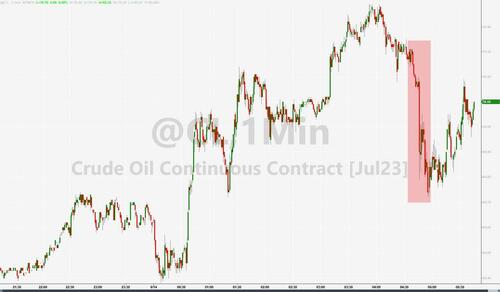 Co-author of the WSJ report Laurence Norman pointed out based on the fresh revelations:
As others have said, aim seems to be an informal understanding which could unlock broader de-escalation. But also warnings to Iran about consequences of going to 90% [enrichment]. But don't expect big announcements even if this comes together.
He followed with, "One theory is that were a prisoners deal to come together — note that remains an IF — there would be no further announcement. US would say any additional money Iran accesses is part of routine humanitarian linked payments. Iran might stop accumulating 60% but not announce it." Thus the Oman efforts are not seen as having as an end goal of the full revival of the JCPOA.
Regional news source Amwaj media group has the following backgrounder detailing the past weeks of behind the scenes diplomatic activity...
* * *
The backdrop: Recent public remarks by Iran's Supreme Leader Ayatollah Ali Khamenei indicate the potential for a series of understandings to be struck between Tehran and Washington.
On June 11, Khamenei stated that there is "nothing wrong" with reaching agreements with the west on the nuclear issue.

The Iranian top official strongly rejected any pursuit of nuclear weapons, insisting on continuing cooperation with the International Atomic Energy Agency (IAEA). However, Khamenei called on officials not to accept "the burden of anything more than the safeguards regulations."

While expressing openness to deals with the west, Khamenei urged officials to "be careful [that] these [existing nuclear] infrastructures remain untouched in case of reaching agreements."
Beyond Khamenei's declaration of his openness to "agreements" with the west, other recent remarks indicate that Iran could be pursuing a last-ditch attempt at reaching understandings with the US.
Khamenei on May 24 praised Iran's conservative-dominated parliament for having passed a bill in 2020 that obliges the expansion of the country's nuclear program. The legislation gave President Biden one month to lift banking and oil sanctions after taking office in Jan. 2021. In the absence of sanctions relief, the legislation compelled the Hassan Rouhani government (2013-21) and its successor to expand nuclear activities and reduce international inspections.

When the legislation was adopted, moderate then-president Rouhani slammed it as "detrimental to diplomatic efforts" to revive the Joint Comprehensive Plan of Action (JCPOA), as the 2015 Iran nuclear deal is formally known.

Khamenei's praise for the controversial 2020 law could indicate a calculation that it is time to utilize any leverage provided by the escalatory steps under the legislation. Indeed, the supreme leader's praise for the law came only days after he highlighted the merits of "flexibility" in foreign policy. On May 20, he said it was important to "realize where to demonstrate flexibility," adding that being flexible "does not negate principles."
Loading...