---
US, Israel To Conduct Joint Drills Simulating Attacks On Iran
Authored by Dave DeCamp via AntiWar.com,
The US and Israel will simulate striking Iranian nuclear facilities as part of a series of joint military exercises that will be held in the coming months, The Times of Israel reported Wednesday, citing Israeli TV.
Back in January, the US and Israel conducted the Juniper Oak exercises, which were the largest-ever joint drills between the two nations. The Israeli military said Juniper Oak was just the first of a series of drills that the US and Israel will hold this year.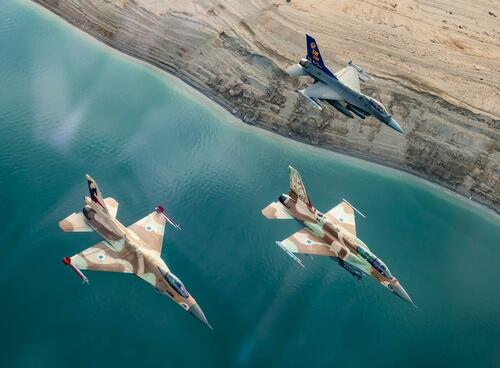 Israel's Channel 12 reported one of the upcoming drills would simulate Israel facing a multi-front missile attack that will involve the US deployment of Patriot missile systems. Another drill will rehearse a joint US-Israeli attack on Iranian nuclear facilities.
The plan to simulate attacks on Iran has not been publicly confirmed by the US or Israel, but the two nations have previously rehearsed bombing Iran, including during drills that were held over the Mediterranean Sea in November 2022.
While nuclear facilities would be the target in the simulated drills, there's no sign Iran is looking to build a nuclear weapon, which was affirmed by a recent US intelligence report.
Often missing from the conversation about Iran's civilian nuclear program is the fact that Israel has a secret nuclear weapons program and an arsenal of nukes that the US does not acknowledge exists.
The report comes amid heightened tensions between the US and Iran in the Persian Gulf. The US seizure of a tanker carrying Iranian oil in April provoked two Iranian tanker seizures, and the US responded by beefing up its military presence in the region.
Loading...