---
US Jet Shoots Down Turkish Drone Over Syria After Attack On Occupied Oil Field
There are emerging reports that Turkey just attempted a drone attack on a US-occupied oil field in northern Syria on Thursday. "A U.S. jet fighter shot down a Turkish drone on Thursday after it was deemed a threat to U.S. forces in northeast Syria, a person familiar with the episode said," The Wall Street Journal has confirmed.
Turkey immediately claimed the drone wasn't operated by its forces, "But one American official described it as an armed Turkish drone and said that the U.S. was aware of that before it acted," WSJ continues. Unverified footage of the drone shootdown is widely circulating:
F-35A fighter jet of USAF from 421st EFS shot-down a Turkish Air Force's Anka-S armed drone over Hasakah. The Turkish drone had bombed positions of SDF which are the US allies in North East of Syria.

pic.twitter.com/MuM9h4C0JG

— 301 Military (@301military) October 5, 2023
The Turkish attack was reportedly in response to a bombing in Ankara claimed by Kurdish militias. The Turkish air force then launched a series of attacks on Syria's Hasakah governorate, which has for years been held by US-backed Syrian Democratic Forces (SDF). But Turkey has long seen the SDF, which is dominated by the Syrian Kurdish YPG, as an extension of the PKK, considered by Ankara to be a terror organization.
"Hawar News Agency reports that among the targets was an oil site in Qamishli and the Jal Agha Dam," writes Beirut-based news source The Cradle. "Furthermore, several deaths and injuries were reported following a Turkish drone attack on the town of Tel Habash."
Crucially, US forces have small bases scattered throughout the very areas which came under attack. SDF-aligned local officials have confirmed the "revenge" strikes by Turkey and its regional proxies. "Targeting infrastructure facilities is aggressive behavior amounts to war crimes," an SDF affiliated statement said, saying that its facilities, including civilian infrastructure, were targeted.
SOHR: Turkey targets gas, electricity and water stations, because its real goal is to displace civilians and bring about a demographic change in the northeast Syria https://t.co/wK2FkkqgCD

— Hassan al-Ali (@han_ali23) October 5, 2023
Turkey also confirmed it conducted cross-border operations, but rejected responsibility for the drone attack:
"Our only goal is to eliminate the terrorist organizations that pose a threat to Turkey. A ground operation is one of the options to eliminate this threat, but it is not the only option for us," a Turkish official told reporters following the latest round of airstrikes. His comments came as the Turkish army deployed ground reinforcements to areas under its control in the northwest of Syria.
The anti-Assad, UK-based monitoring group Syrian Observatory for Human Rights has also said that the US coalition shot down a Turkish drone in what marks a serious "NATO vs. NATO" escalation over Syrian skies, ironically enough.
A Turkish drone targets the Amuda power station: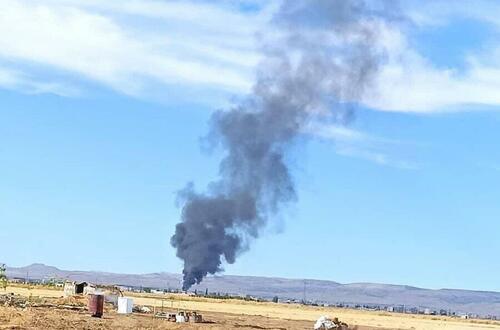 At least eight people have been killed in Thursday's Turkish strikes on Syria, reports Reuters:
At least eight people have been killed in Turkish drone strikes on Thursday on the Kurdish-held zone of northeast Syria, a war monitor and a local security source said, following Ankara's threats against Kurdish military facilities in Syria and Iraq.

Two were killed in a strike on a car near a military facility and another six were killed in a later strike on a military post near the town of Amuda, the security source told Reuters.
#Syria #Turkey A Turkish drone targets the Odeh oil field, which is controlled by The Syrian Armed Forces, near the city of Al-Qahtaniyah. pic.twitter.com/Hu6G3Fpb2w

— The National Independent (@NationalIndNews) October 5, 2023
According to more details from WSJ, "The U.S. aircraft that downed the drone, which was armed with air-to-ground munitions, was an F-16. The action was taken as American troops were conducting operations nearby, a U.S. official said."
This appears the most significant Turkish coordinated operation in years, and is sure to ratchet already simmering tensions with Washington further.
An electrical power conversion station in #Qamishli was targeted by a #Turkish march.
Before that, there is a series of attacks on oil fields, dams, and vital service facilities along the geography of northeastern #Syria on the border with #Turkey. pic.twitter.com/mzOuQBv844

— MOHAMMAD HASAN (@MHJournalist) October 5, 2023
It also comes at a moment of internecine fighting between US-backed Kurds and Arab tribes in Syria's Deir Ezzor region. All of this means the US occupation is facing its fiercest pressure, also at a time Damascus is maneuvering to force American forces off its sovereign territory.
Loading...