---
US Munitions Stockpile Too Low To Defend In War Over Taiwan
Authored by Andrew Thornebrooke via The Epoch Times (emphasis ours),
As Russian paratroopers descended on Kyiv and attempted to seize Antonov Airport, U.S. officials offered Ukrainian President Volodymyr Zelenskyy a lifeline. Western leaders could guarantee him safe passage if he fled immediately.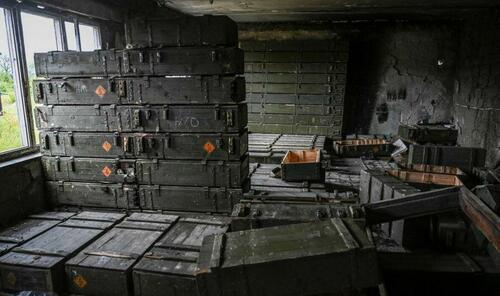 Zelenskyy famously retorted that he needed ammunition, "not a ride."
In the 15 months since, the United States has spent tens of billions of dollars giving Zelenskyy and embattled Ukraine just that. Now, officials say, the nation has depleted its own stores of critical munitions so severely that it would likely be incapable of fighting a major war.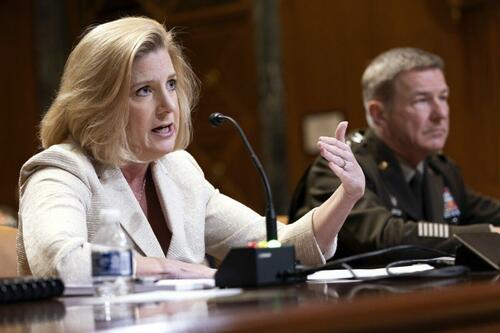 Army Secretary Christine Wormuth has said that the United States' munitions production capacity is pushed to the "absolute edge."
Chairman of the Joint Chiefs of Staff Mark Milley has said that the nation "has a long ways to go" to replenish its sorely depleted stockpiles.
One unnamed Pentagon official allegedly told the Wall Street Journal that the nation's stores of critical artillery rounds were "uncomfortably low" as early as August of last year.
The Pentagon declined to provide an update to the Epoch Times on the status of its current munition stockpiles, with one spokesperson saying that providing any specifics on the matter could jeopardize "operational security."
The spokesperson suggested, however, that the United States was making great strides in rebuilding what had been lost.
"Of note, the department has enabled a rapid increase in 155mm ammo production, from approximately 14,000 a month in February 2022 to over 20,000 a month more recently, with plans to produce more than 70,000 a month in 2025," the spokesperson told the Epoch Times.
"This represents a 500 percent increase."
There's just one problem with the Pentagon's rosy outlook on its quickly dwindling stockpiles: Even with a 500 percent increase in production by 2027, the nation would still only be halfway to keeping afloat.
That's because, by the end of August of last year, the United States had already sent just over 800,000 155mm artillery rounds to Ukraine. That number has since increased to more than two million, according to a fact sheet provided to the Epoch Times by the Pentagon.
That's a rate of more than 130,000 rounds per month. Nearly twice as much as the proposed production rate of 70,000 that the Pentagon hopes to achieve in five years.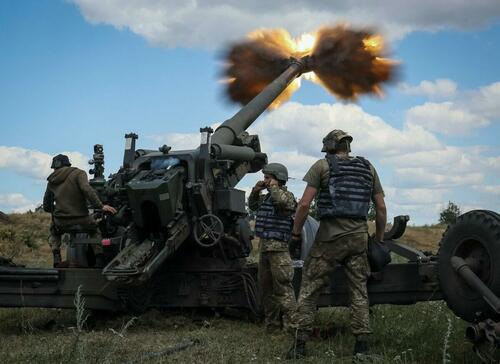 US Struggles to Produce Enough Munitions
To be sure, the Pentagon has taken steps to stop the hemorrhaging of its critical munitions stocks. Most notably, it has taken to trying wherever possible to purchase ammunition for Ukraine from other countries rather than strip its own stores bare.
How long it can keep the current balance up is open for debate. Allied stockpiles are not infinite either, after all, and already some partners are thinking of their own security concerns.
Key ally South Korea, for example, has already refused requests to sell the munitions to the United States, citing fears of North Korean aggression.
Now, the U.S. is going so far as to pull equipment from units stationed in Israel and South Korea in order to adequately supply Ukraine without emptying its stockpiles.
Likewise, the U.S. Army is now seeking $18 billion from Congress to expand and modernize its munitions production capabilities over the course of the next 15 years. According to Secretary Wormuth, the effort will help to replenish the more than $20 billion in lethal aid already delivered to Ukraine directly from U.S. stockpiles.
Even that may not be enough, however.
"My sense is we're going to need to do more," Wormuth said during a March 30 hearing of the Senate Armed Services Committee.
"One thing the war in Ukraine has shown us is that the estimates we've made for the munitions [required] for future conflicts are low."
The Army's first tranche of investments, worth $1.5 billion, is included in the Pentagon's budget request for fiscal year 2024.
That amount is expected to help the Army expand and modernize the nation's ammunition production facilities, arsenals, and depots, many of which date to World War II.
Despite the stoic facade presented by policymakers, the idea that it will take 15 years to modernize the United States' munitions production capability has some lawmakers worried. Particularly so for those dedicated to stopping a Chinese communist invasion of Taiwan.
Read more here...
Loading...