---
US Says Israel Has 'Right' To Expand Military Offensive To South Gaza
Starting two days ago Israel warned that it would expand its military operation to the southern half of the Gaza Strip, which drew rebukes from some countries and human rights organizations. Such a warning is hugely controversial given that Israel told northern Gaza's over one million civilians to flee south for safety in the first place. 
A Friday statement by Israel Defense Forces (IDF) spokesman said they are "determined" to push forward the offensive: "It will happen wherever Hamas exists, including in the south of the strip," Rear Adm. Daniel Hagari said.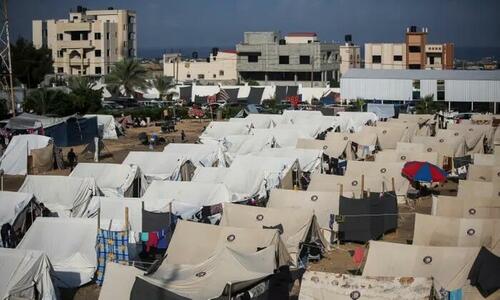 A high-ranking White House official reacted on Sunday, telling CBS News's "Face the Nation" that Israel has the "right" to expand its operations; however, he said the Biden administration still hopes such a plan is delayed while additional safeguards are put in place to avoid harming more civilians. 
US Deputy National Security Adviser Jon Finer said, "In the event that we believe that Israel is likely to embark on combat operations, including in the south, we believe both that they have the right to do that, but that there is a real concern, because hundreds of thousands of residents of Gaza have fled now from the north to the south at Israel's request."
"We think that their operations should not go forward until those people – those additional civilians – have been accounted for in their military planning. And so, we will be conveying that directly to them and have been conveying that directly to them," Finer continued.
He didn't convey any specifics related to this request for Israel to minimize civilian casualties. The administration has all the while refused to put any conditions on how Israel uses military aid, despite the death toll in Gaza having reached 13,000 since Oct.7, according to Palestinian sources.
The IDF in the last several days began dropping tens of thousands of leaflets over parts of the south, including neighborhoods of the major southern city of Khan Younis. Palestinians there have been told to flee to unspecified shelters. Palestinian and regional news sources have said that civilians have nowhere to go, also as the lone border crossing into Egypt has remain closed to all but certain foreign passport holders.
The US, and some European countries like France, have slowly begun to get more vocal about the immense civilian death toll in Gaza...
Israel has killed more civilians in Gaza in 1 month than Russia has killed in Ukraine during the war in the last two years.

Dr. John Mearshiemer

— Fr. Michael Haji-Lillie (@FrLillie) November 20, 2023
As of Monday the widely reported hostages deal said to have been on the table has yet to materialize.
"U.S., Israeli and Hamas negotiators are closing in on a deal to release some of the hostages taken during the Oct. 7 terrorist attack in exchange for a pause in fighting, sources familiar with the negotiations told NBC News, though they caution nothing has been finalized yet," NBC reports. US sources have suggested all sides (which includes Qatari mediation with Hamas) are "close".
Loading...