---
Biden, Yoon Agree: Response To North Korean Nuclear Attack Would Include US Nukes
Update(1450ET): As expected, Presidents Biden and Yoon unveiled the "Washington Declaration" during an afternoon joint press conference, boosting military cooperation which will include US nuclear deterrents being parked on the peninsula (previewed below).
"The alliance formed in war and has flourished in peace," Biden to reporters gathered in the Rose Garden. "Our mutual defense treaty is iron clad and that includes our commitment to extend a deterrence – and that includes the nuclear threat, the nuclear deterrent." He added: "They're particularly important in the face of DPRK's increased threats and the blatant violation of US sanctions." Biden further called the US-South Korea alliance "the linchpin of regional security and prosperity" in the Indo-Pacific.
South Korea's Yoon for his part took a tough stance in response to Pyongyang's recent frequent missile drills and nuclear rhetoric, saying "peace with North comes through superior force, not 'goodwill'" - according to AFP. Yoon also said that the response to a possible North Korean nuclear attack would include US nukes. Biden affirmed Yoon's comments...
BIDEN: NUCLEAR ATTACK WILL RESULT IN END OF NORTH KOREA REGIME
1/2
Biden: "Nuclear attack by North Korea...confused noises...will result in the end of whatever regime that would take such an action."
South Korea's Yoon added that any nuclear attack by North Korea will be met "swiftly, overwhelmingly: pic.twitter.com/Wy23q3fxE9

— Alan (@Alan39982121) April 26, 2023
* * *
In a move which is certainly to explode tensions on the peninsula further at a moment things are already on edge, the US is sending nuclear-armed submarines to dock in South Korea for the first time in four decades.
Senior Biden administration officials say the move is part of a broader and "more visible" plan to make clear to Kim Jong Un that Washington is ready to defend Seoul against the increasing nuclear threats from Pyongyang.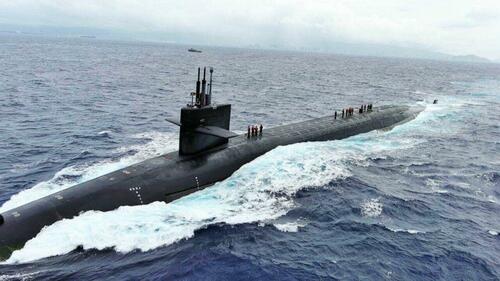 The last time nuclear-armed submarines were docked in South Korea was in the 1980s; however, the new plan will see such nuclear assets, including long-range bombers, sent to the peninsula only on a temporary basis and not permanently.
According to details in The Associated Press, and in relation to President Yoon Suk Yeol's state visit to the White House and Congress this week: 
The planned dock visits are a key element of what's being dubbed the "Washington Declaration," aimed at deterring North Korea from carrying out an attack on its neighbor. It is being unveiled as Biden is hosting Yoon for a state visit during a moment of heightened anxiety for both leaders over an increased pace of ballistic missile tests by North Korea over the last several months.

The three senior Biden administration officials, who briefed reporters on the condition of anonymity ahead of the official announcement, said that Biden and Yoon aides have been working on details of the plan for months and agreed that "occasional" and "very clear demonstrations of the strength" of U.S. extended deterrence capabilities needed to be an essential aspect of the agreement.
The escalation in deterrence policy is also being framed in Washington as necessary to avoiding a nuclear arms race on the peninsula, given that in the wake of frequent new North Korean weapons tests, Seoul officials have begun to consider a nuclear option.
Biden officials say that in return for the US nuclear protection, the south is expected to reaffirm its commitment to the Nuclear Nonproliferation Treaty (NPT).
'As specific steps for the deterrence, the U.S. will send an Ohio-class nuclear submarine to South Korea. The dispatch of such a submarine to South Korea is the first since early 1980 during the Cold War, the official said.'https://t.co/ErHvbY4ovg

— Yuka C Koshino | 越野 結花 (@YukaKoshino) April 26, 2023
The Yoon administration is reportedly seeking to make clear that it's not pursuing nukes. A US State Department official this week said that the south is "not pursuing a nuclear weapons program and that it is working closely with the United States through existing extended deterrence mechanisms."
And yet, this is not going to 'reassure' the DPRK; instead, the world is likely about to see more nuclear saber-rattling than ever, also given Seoul officials have recently predicted the north will conduct a nuclear test sometime soon, which hasn't been done (or at least known) since 2017.
Loading...