---
US Shutters Haiti Embassy Amid "Rapid Gunfire" As Armed Gangs Have Run Of The Capital
Haiti's problems have gone from bad to worse after years of political instability, raging gang violence, rampant kidnapping, food and medicine shortages, and the outbreak of deadly diseases like cholera.
Many thousands of Haitians have flooded the streets of Port-au-Prince this week, angry over the lack of security or any rule of law in crime-ridden neighborhoods across the impoverished Caribbean nation. But Tuesday saw further escalation in violence, as rapid gunfire rang out, coming from the crowd and in the vicinity, causing the US and other foreign embassyies to close operations.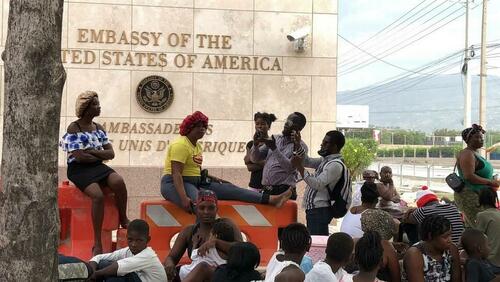 "The Embassy is closed today. All personnel are restricted to Embassy compounds until further notice due to gunfire in the vicinity of the Embassy. Travel between the compounds is prohibited," the embassy said in a new statement. 
The US Embassy warned further that anyone seeking to get to or from the compound could have the security of routes "impacted due to continued rapid gunfire."
CBS and other outlets have described an escalating situation in which "ceaseless violence at the hands of gangs" has resulted in angry crowds demanding some semblance of security from both national and international officials.
Cries of "we want security!" were heard from the crowd, many with their faces masked, amid burning tires and vehicles, tear gas, and running street clashes.
Some sources estimate that armed gangs control up to 80% of the capital city, and police are powerless to protect residents...
Tear gas, burning barricades, and heavy clashes were seen on the streets of Haiti's capital Port-au-Prince during protests against political instability as well as crime in the island nation. Armed gangs control a staggering 80% of the capital.

Armed street fighting between… pic.twitter.com/zOKhMg1oQm

— red. (@redstreamnet) August 8, 2023
Meanwhile, as for potential solutions, the United Nations has debated for the past year a proposal to send an international police-keeping force, but it remains that no particular nation - including the United States - wants to be seen as spearheading it given the controversy accompanying past such interventions.
Not only would the ongoing chaos and violence pose a serious risk to international peacekeeping troops, but the West's legacy of colonialism would once again be under a microscope.
Most recently, Kenya proposed that it could send its own troops, but again, few UN officials have the political will to see it through given there are so many "unknowns" and ways it could exacerbate an already spiraling situation:
After Primer Minister Ariel Henry urged the world in October to deploy an armed force to fight the gangs, the United Nations has struggled to convince a nation to lead efforts to restore the order in the Caribbean country, in part due to past controversy over peacekeeping missions. There's been little appetite for a U.S.- or U.N.-led force, and the United States unsuccessfullt tried to persuade Canada to lead a force.
With this fresh violence and gunfire, it's very possible the American embassy could shutter permanently, given that late last month there was already an evacuation order given for all 'non-essential' embassy staff and their families. All Americans were also advised to leave Haiti immediately.
Just over a week ago, two American citizens were reported kidnapped. "An American nurse and her daughter have been abducted in Haiti, in the latest kidnapping episode to draw international notice, as a resurgence of violence grips the capital, Port-au-Prince," wrote The Washington Post.
An American nurse and her child are among the latest people to be abducted in Haiti, where kidnappings have become a daily part of life.

Over 1,000 people have been kidnapped by criminal groups so far this year. pic.twitter.com/YIV8GaZJFw

— Human Rights Watch (@hrw) July 31, 2023
"In a brief statement on Saturday, El Roi Haiti, a faith-focused humanitarian organization, identified the woman as Alix Dorsainvil, the group's community nurse and the wife of the group's director. She and her child were taken from El Roi's campus near the capital on Thursday, according to the statement," the report added.
Human Rights Watch says that over 1,000 people have been kidnapped by criminal gangs so far this year alone - and these are just the "known" cases.
Loading...