---
US Warns Of False Flag Attacks As Russia Targets Civilian Ships Off Ukraine
Authored by Andrew Thornebrooke via The Epoch Times (emphasis ours),
The United States is warning that Russia could use its own sea mines in a false flag operation to justify the ongoing targeting of civilian grain vessels in the northern Black Sea.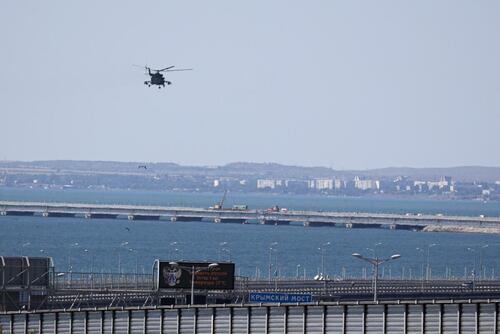 White House National Security Council Spokesperson John Kirby told reporters on July 20 that the Biden administration felt it was necessary to issue a "warning" about Russian disinformation on the topic.
Moscow, he said, released a video late Wednesday alleging to demonstrate the seizure and detonation of a Ukrainian sea mine.
Despite the claim, Mr. Kirby said, Russia itself is currently placing sea mines at the entrances to Ukrainian ports and targeting civilian ships carrying food to and from the region.
"Our information indicates additional sea mines in the entrances to Ukrainian ports, and yesterday we observed Russia release a video of the detection and detonation of what they claim was a Ukrainian sea mine," Mr. Kirby said.
"We believe that this is rather a coordinated effort to justify any attacks against civilian ships in the Black Sea and then blame them on Ukraine in what we would consider… a false flag operation."
Russian Military Targets Civilian Grain Ships
Mr. Kirby's comments come just days after Moscow announced it would not renew the Black Sea Grain Initiative. That deal allowed ships to carry grain to and from Ukraine, provided they were inspected by a third party to ensure they were not being used to smuggle weapons.
Ukraine is the world's fifth largest exporter of wheat, delivering more than 18 tons of food to the world's nations every year.
Since the deal ended, Mr. Kirby said, Russia has begun targeting civilian infrastructure in Ukrainian port cities in an apparent effort to destroy Ukraine's food supply, including its capacity to import and export grain. Russian forces are also placing sea mines around Ukrainian ports, he said.
"Russia has already announced publicly that all ships proceeding to Ukrainian ports in Black Sea waters will be considered potential carriers of military cargo, even though they are simply trying to pick up food that will feed people around the world," Mr. Kirby said.
At least 27 people were reported hurt in Russian air strikes on Ukrainian ports this week, which set buildings ablaze and even damaged China's consulate in Odesa.
In addition to targeting civilian grain ships, Moscow has also declared it will track any such ships entering Ukrainian ports and their flag countries as parties to the war on the Ukrainian side
To that end, Mr. Kirby said the White House was "watching very, very closely" for any sign of a Russian false flag operation that might justify increased attacks against civilian infrastructure, further jeopardizing the world's food supply.
Likewise, he said, the Biden administration is issuing sanctions against nearly 120 entities it says are responsible for helping Russia obtain access to international finance and military technologies.
"We're taking additional steps to hold Russia accountable for its illegal war against Ukraine," Mr. Kirby said.
Ukraine's Counteroffensive Stalls
Russia's refusal to renew the Black Sea Grain Initiative comes as both Moscow and Kyiv contend increasingly narrow pathways to ensure victory in the ongoing war.
Read more here...
Loading...