---
Wagner Fighters Have Returned To Ukraine Battlefield: CNN
CNN has cited Ukrainian military sources to say that Wagner fighters have been redeployed to the battlefield in Ukraine, but this time under the Russian defense ministry. 
Hundreds of Wagner fighters have reportedly appeared in the east, according to the Ukrainian sources. The last time the Ukrainians had seen them in significant numbers was after Wagner units had handed control of Bakhmut in the east over to the Russian regular armed forces.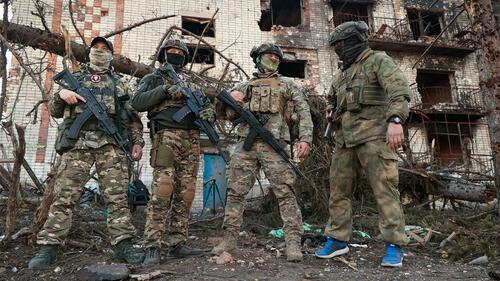 But the following month, in June, Wagner staged a mutiny and short-lived armed "march on Moscow" - which resulted in several deaths among Russian soldiers. After the rebellion fizzled out and the group's head Yevgeny Prigozhin agreed to peace, much of Wagner was exiled to Belarus.
Below is what a Ukrainian commander had to say on their reemergence: 
On Wednesday, the Deputy Commander of Communications for Ukrainian troops in the East, Serhii Cherevatyi, said that the former Wagner fighters who had returned to Ukraine were now working for the Russian Ministry of Defense or its affiliated structures and had joined as individuals not as a unit.

"As of now, there are several hundred of them in our direction, on the Eastern Front, in different areas," Cherevatyi told CNN.

But he sought to downplay the significance of their return, saying Russian forces in Ukraine "are short of everyone there now, so any man is good for them."
Thus it appears that any returning Wagner fighters are now serving as regular troops, which President Putin had previously stipulated. In the summer he had offered that they either sign individual contracts with the defense ministry, or be exiled to Belarus.
According to a separate CNN source: 
"Wagner is here too," a drone operator with call-sign "Groove" told CNN's Fred Pleitgen on the ground in eastern Ukraine on Tuesday. "They came back, they swiftly changed their commanders and returned here."
However, Ukrainian sources have been seeking to emphasize Wagner is no longer a significant "threat" as it once was...
He said that of roughly 8,000 Wagner fighters who were stationed in Belarus, around 500 are returning to Ukraine's eastern front. Yevlash noted that Wagner fighters no longer pose a "significant threat" since the death of their leader, Yevgeny Prigozhin.https://t.co/4PIXToduIk

— The Kyiv Independent (@KyivIndependent) September 27, 2023
The process to disband and normalize Wagner was likely sped up in the wake of the August 23 death of Prigozhin and his entire senior leadership after their private plane went down outside Moscow while en route to St. Petersburg. It is believed that either a bomb was detonated, or it was shot down by an anti-aircraft missile.
Wagner's fate as a large entity with financial interests across the globe is as yet uncertain. There's speculation it may be absorbed into the Russian state, but at the same time it is clearly still very active in its Africa operations. 
Loading...