---
Wagner Training Belarusian Troops, Government Confirms, As Russia Withdraws Almost All Forces
That escalated quickly: following the Wagner mutiny events of June 23-24 which resulted in Yevgeny Prigozhin being briefly exiled to Belarus (though there are indicators he's already back in Russia living as a free man), Wagner mercenaries have not only set up shop on Belarusian soil but are now training regular soldiers of the Belarusian army.
According to a Friday statement of the Belarusian defense ministry, Wanger fighters are giving formal instruction to soldiers at a base near Osipovichi, just over 50 miles south of the capital of Minsk. 
"Wagner fighters acted as instructors in a number of military disciplines," the ministry announced. It described, "The conscripts master the skills of moving on the battlefield and tactical shooting, gaining knowledge in engineering training and tactical medicine."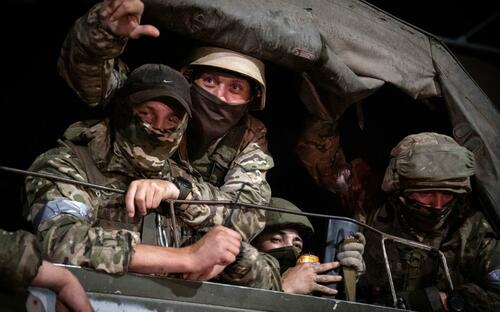 Sky News details of the training location based on regional sources that "The town is home to an empty camp that mutinous Russian mercenaries have yet to use and perhaps even a storage facility for tactical nuclear weapons Russia says it has deployed in Belarus."
A mediation effort by President Alexander Lukashenko had ended the short-lived uprising last month, which resulted in the deaths of at least 15 Russian troops and pilots, according to subsequent Kremlin statements.
The deal for Wagner to lay down its arms and turn back its "march on Moscow" saw Prigozhin fly on his private jet to Minsk within days after. It has since been revealed that a private hours-long meeting between Putin and the Wagner boss took place within the week following the events that shocked Russia and the world.
But last week, Lukashenko told reporters: "As for Yevgeny Prigozhin, he is in St. Petersburg. Maybe he went to Moscow, but he is not on Belarusian soil," according to the Russian news agency TASS. Putin had offered Wagner mercenaries a general amnesty, saying they can either sign contracts with the regular armed forces, or go to Belarus. 
Interestingly, on the very day that Belarus confirmed Wagner is training its forces, news has emerged of a major withdrawal of almost all regular Russian forces from Belarus: 
Russia has withdrawn almost all its troops from Belarus, Ukraine's state border guard service has said. Russian military have been using the territory primarily as a training ground for a lot of the war. 

"Fortunately, the number of Russian soldiers in Belarusian training areas has been steadily decreasing," the service's spokesperson Andrii Demchenko said at a news briefing, according to Kyiv Independent.  

"Until recently, we estimated their number to be up to 2,000 soldiers, but now another rotation has taken place and almost all Russian personnel has been withdrawn from the territory of Belarus." 
"Wagner's ordinary members were fighting with dignity… so it is very regrettable that they became embroiled into these events," Putin had added in the remarks.
It seems these withdrawing Russian troops were essentially replaced by Wagner units, which is unlikely to give Ukraine or other regional Western allies any comfort. Already, neighboring countries like Poland have bolstered their border defenses due to the Wagner presence in Belarus.
Video clips showing Wagner training Belarusian troops has emerged:
In Belarus, classes are being held with units of the territorial troops, fighters of the PMC "Wagner" acted as instructors in a number of military disciplines
This was reported in the Ministry of Defense of Belarus.
At the training ground near Osipovichi, instructors from the… pic.twitter.com/2Th611DyEh

— Spriter Team (@SpriterTeam) July 14, 2023
According to some fresh remarks by President Putin in the national outlet Kommersant:
Russian President Putin said new weapons supplies will further escalate the conflict in Ukraine and worsen the situation. It was separately reported that Putin also said he proposed to Wagner fighters at a meeting this month to continue serving in the military, while he added that Russia's government and parliament must discuss the legal framework for private armies and said without a legal framework, 'Wagner does not exist', according to Kommersant.
Previously, Western media reports speculated that Wagner could be used to provide additional security at Belarusian bases which were playing host to Russian tactical nukes. While the nukes are being housed by Belarus, the Kremlin has said they are under full operational control of Russia's defense ministry and its troops.
As for the fate of Wagner, it clearly has not at all been disbanded, and is still going strong serving contracts across Africa, for example. Likely Moscow will continue to use it as a 'foreign arm' - and it is likely still operational even in some front line locales in Ukraine.
Loading...