---
Watch: Chinese Jets Come Within 5 Meters Of Canadian Spy Plane In 'Very Aggressive' Intercept
It's not just US military aircraft which are operating with increasing frequency in skies off China's coast, but now the Canadian Armed Forces are getting more involved, perhaps as the Pentagon's junior partner. 
On Monday, Canada's military condemned what it described as a "very aggressive" intercept of its spy plane by Chinese pilots. Canada's Global News reports, "At least two different Chinese jets intercepted the Canadian plane consistently for multiple hours during the more than eight-hour-long mission. The Chinese jets came within about five meters of the Canadian plane."
"They became very aggressive and to a degree we would deem it unsafe and unprofessional," Canadian Armed Forces Maj.-Gen. Iain Huddleston said in statements to the media.
Global News was actually aboard the Canadian spy plane when the intercept took place and was able to get close-up footage. In the recent past CNN crews have also on occasion accompanied US reconnaissance flights to get live footage of the expected moments that Chinese PLA jets shadow or intercept Western military aircraft...
At one point, one of the Canadian pilots says that the Chinese jet must be "probably 20 feet off our wing, max... maybe 10 feet off our wing". One of the media members aboard the aircraft anxiously asks, "are we okay?" She continues, "Oh my God I can't believe how close it is."
"It's a ramp-up of the aggressiveness that's really unexpected and unnecessary in the context of the mission that we're flying," Maj.-Gen. Huddleston continued.
Canada's Defense Minister Bill Blair said it put the crew of the reconnaissance plane at risk. "It was quite frankly dangerous and reckless. And those types of behaviors are not ever acceptable and we will express that to the People's Republic of China in the most appropriate way," he said. 
Canada says its plane wasn't in the region as part of a counter-China mission, but was instead tasked with observing shipments related to North Korea:
The 13-member crew on board the Canadian mission is tasked with helping to stop illegal oil shipments to North Korea. During this mission, senior CAF members said the crew identified a listed "vessel of interest."

"We're here enforcing a United Nations resolution. We are not here acting against the Chinese. We don't want to have anything untoward happen that would result in loss of life," Huddleston said.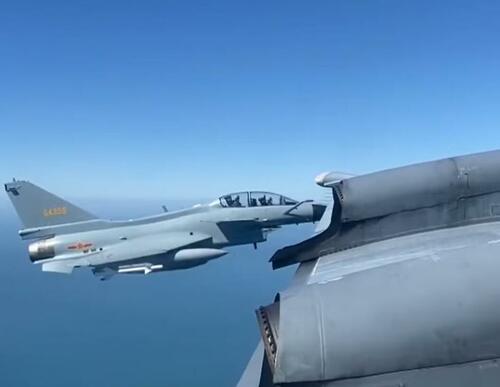 Beijing likely sees Canada as being in partnership with the United States' ramped-up operations in waters off its coast, especially given that under President Biden, there have been near-monthly transits of the disputed Taiwan Strait. China's maritime claims, and therefore interpretation of its airspace, in the East and South China Sea regions are at odds with how the US and its allies see it.
Loading...