---
Watch: Drone Smashes Into Central Moscow As Attacks Become Daily
Closter to the opening of the Ukraine war it seemed unthinkable that a scenario of foreign drones reaching deep inside Russian territory to strike Moscow would become 'normative' - but this is now what's happening, as Ukrainian drone attacks on Russia become daily.
Overnight, a drone again reached central Moscow, slamming into a high rise building in the capital's business district, authorities confirmed Wednesday, in what's a sixth consecutive night of aerial attacks on Moscow.
Ukrainian toy drones target buildings in Moscow city.

This is becoming a common occurrence pic.twitter.com/shkMXzcGLy

— Ragıp Soylu (@ragipsoylu) August 23, 2023
This particular attack was caught on video from multiple angles. Though likely a small drone, the explosion upon impact was significant and left visible damage on one or more floors of the large building.
Russia's defense ministry said it downed at least two other inbound drones, in the Mozhaisky district and one in the Khimki district of the heavily populated Moscow oblast. 
Overnight, commercial air traffic was halted at all Moscow airports, including Vnukovo, Sheremetyevo and Domodedovo airports, but operations later resumed as normal.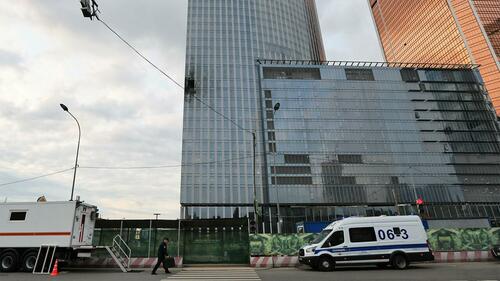 Moscow Mayor Sergei Sobyanin said of the fresh attack that "several windows were smashed in two adjacent five-story buildings."
The somewhat meaningless attacks suggest growing desperation on the part of Ukraine forces, given the counteroffensive is now widely acknowledged to be a failure, and so the aim seems to be to put the Russian population on edge, and to disrupt 'normalcy' and stability of major cities like Moscow as much as possible. 
⚡️The moment an explosion took place in central Moscow tonight, likely drone attack pic.twitter.com/30cZ7SOF6W

— War Monitor (@WarMonitors) August 23, 2023
But the cross-border attacks are likely to escalate Russia's missile attacks on Ukrainian cities in return, at a moment the front-lines are largely stalemated, but with Russian forces for the most part in firm control of the four territories now declared part of the Russian federation, a key part of Putin's objective.
Loading...