---
West Bank Settlers Rampage In Palestinian Villages, Killing 1 And Injuring Dozens
One Palestinian is dead and dozens injured after Jewish settlers went on fiery rampages in several West Bank villages, with Israeli security forces reportedly siding with the assailants and thwarting Palestinian attempts to defend themselves and their property. 
The attacks were said to be acts of vengeance for the killing of four settlers by Palestinian gunmen. However, those gunman had already been shot to death shortly after they carried out their attack at a roadside restaurant near the Eli settlement.
Israeli settlers are rampaging through the Turmus Aya village.

Fires can be seen from miles. People are locked inside their homes. Multiple vehicles & farms burned down...

All with total impunity & ZERO consequences!

Yesterday settlers burned & damaged 134 cars & wounded 34! pic.twitter.com/tNNBIT3sJw

— Muhammad Shehada (@muhammadshehad2) June 21, 2023
That incident, in turn, followed major Israeli military attacks on the Jenin refugee camp that have killed at least seven including two children. In an escalation not seen in the occupied West Bank since 2006, Israel used helicopter gunships, followed by a drone strike that killed three on Wednesday. 
Lafi Adeeb, mayor of Turmusaya, told Middle East Eye that hundreds of Jews descended upon her town in a midday onslaught, setting fire to some 30 houses and 60 vehicles as well as agricultural land.  
"This is genocide, this is a war against us," said Adeeb. "Settlers carrying weapons and canisters full of fuel attack our small village and set fire to houses over the heads of their inhabitants." 
Turmassyah Pogrom |

"They tried to burn my children alive, while their were in the house. This is our first visit to Palestine in years."

A dual Palestinian-American citizen describing what happened during the Israeli settler pogrom. pic.twitter.com/a86GbXtS7U

— Younis | يونس (@ytirawi) June 21, 2023
"They attacked our town by surprise, sneaking in at noon because they know that the citizens are busy and most of them are outside the town," said Adeeb. "The attack was large and organized, with full protection and coordination with the Israeli army, which is working against us and protecting them."
On social media, users circulated video said to show the destruction in Turmusaya and other Palestinian villages. This tweet says Israeli soldiers fired "bullets, stun grenades and gas bombs at youths as they confronted a settler attack on the outskirts of the village of Urif": 
عاجل| قوات الاحتلال تطلق الرصاص وقنابل الصوت والغاز بكثافة تجاه الشبان أثناء تصديهم لهجوم مستوطنين على أطراف قرية عوريف جنوب نابلس. pic.twitter.com/GAxRTeUThT

— شبكة قدس الإخبارية (@qudsn) June 21, 2023
According to Middle East Eye, soldiers also closed the entrances to Turmusaya, leaving it to the Palestinians to transport their own wounded people, since ambulances couldn't find their way in.  
"We finished the noon prayer, then we heard screams on the northern side of the town. We rushed there and found the vehicles burning and everything on fire, which devoured the agricultural crops and trees," said Turmusaya resident Ahmed Jabara.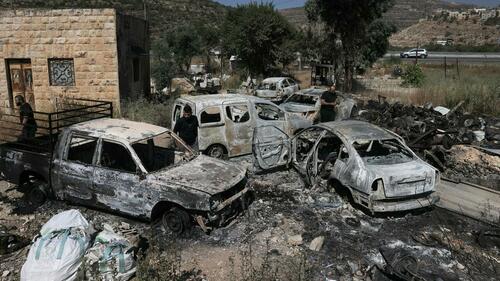 In an analogue for the glorified bottle rockets that Gaza militants periodically fire at Israel, Palestinians in the West Bank town of Urif tried repelling Jewish attackers with fireworks: 
شبان يطلقون مفرقعات نارية تجاه مستوطنين في عوريف جنوب نابلس. pic.twitter.com/X2qnLxDfBl

— شبكة قدس الإخبارية (@qudsn) June 21, 2023
"Terrorist gangs alongside the regular forces are an integral part of Zionist ideology," Palestinian analyst Ameer Makhoul told Middle East Eye. "Terrorist settler gangs are an integral part of the occupying state, and their job is to commit acts of genocide and intimidation of the Palestinians so that their state escapes responsibility and legal accountability."
Responsibility for deadly West Bank pogrom wave lies with Israel, which arms settler gangs and encourages them to attack Palestinians. > pic.twitter.com/3YEadT4g0K

— B'Tselem בצלם بتسيلم (@btselem) June 21, 2023
On Sunday, Prime Minister Benjamin Netanyahu's cabinet, which is dominated to an unprecedented extent by religious and ultra-nationalist extremists, announced it will enable the construction of an additional 4,560 settlement units in the occupied West Bank -- further obliterating long-running, Western-embraced propaganda about all this violence and injustice someday ending with a supposed "two-state solution."  
Loading...