---
Where Do International Students In The U.S. Come From?
When it comes to higher education in the United States, the proportion of international students attending US institutions has jumped from 1.5% in the 1960s to 5.5% in the early 2020s.
According to a visualization from the International Education Exchange, one can se exactly where most of these students hail from.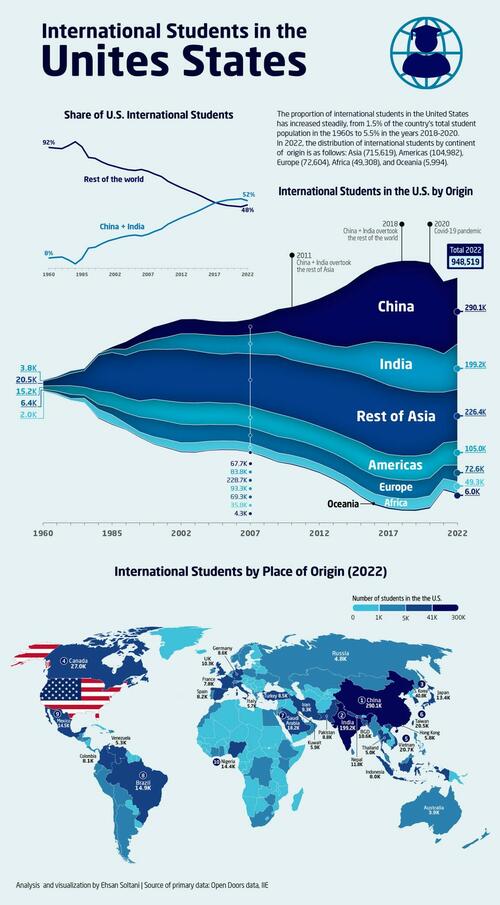 As Visual Capitalist's Ehsan Soltani notes,
The International Student Population
The United States has always attracted students seeking quality education at its many world-class universities and opportunities in the country's job market.
After a drop in recent years due to COVID-19 restrictions, American institutions registered a 3.8% increase in international student participation in 2022.
There were 948,519 international students at U.S. colleges and universities last year.
Asian students represent 75% of the total, with Chinese (30%) and Indians (21%) adding up to over half the count. Oceania is the place of origin with the fewest international students enrolled in the U.S., making up only 0.6% of the total.
According to Open Doors, for the first time in a decade, there were more graduate students (41%) than undergraduates (36%) studying in the United States in 2022.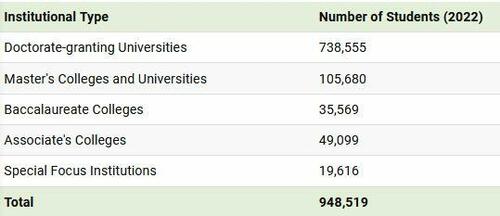 Since the COVID-19 pandemic, many colleges and universities have started to offer online courses. Still, the vast majority of students attended classes in person last year.
A Billionaire Business
International students continue to be a priority for the U.S. higher education sector, contributing $32 billion to the country's economy in 2022.
With the demographic decline in U.S. domestic higher education enrollment, many colleges and universities are strategically focusing on international students.
According to IIE, 89% of U.S. colleges and universities indicated that 2023/24 applications are up or have stayed the same as the previous year.
Loading...