---
White House Backtracks: Admits China Had A Spy Base In Cuba For Years, Blames Trump
China has been using a secret base in Cuba to spy on the United States since at least 2019, a Biden administration official has confirmed, in a revelation which comes of the heels of a last Thursday Wall Street Journal report which triggered a swift denial from the White House and NSC spokesman John Kirby.
The admin official further told The Associated Press that the US intelligence community has considered Chinese spying from Cuba to in reality be an "ongoing" matter and "not a new development" - despite the Biden White House having strongly downplayed the reports of an expanding Chinese spy presence a mere 100 miles from Florida and the American southeast, which hosts dozens of military bases. Politico has since pointed out that After initially calling reports "inaccurate," an official says that the administration "inherited" the problem.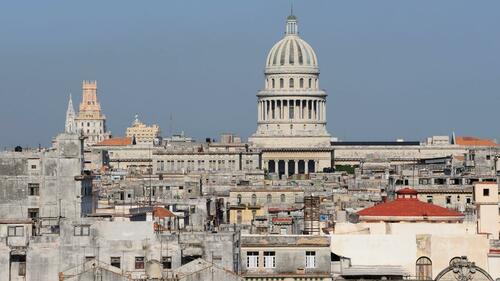 "This is an ongoing issue and not a new development," the widely cited source, identified as a senior White House official, emphasized. "The PRC [People's Republic of China] conducted an upgrade of its intelligence collection facilities in Cuba in 2019. This is well-documented in the intelligence record."
So on the one hand Kirby previously called the report "not accurate" - but on the other this constitutes a tacit White House acknowledgement that China does indeed have a base of intelligence-collecting operations out of Cuba, the latter which is Washington's biggest enemy and rival in the Western hemisphere going back to the Cold War era. 
This goes way beyond a few small Chinese 'spy' balloons floating over North America, given that as the initial WSJ report detailed, Beijing and Havana are negotiating a deal worth "several billion dollars" for China to establish a cutting-edge intelligence base on the island, which means China would gain an edge in sweeping up communications of US military bases across southeast United States and possibly beyond. According to more from the unnamed admin official:
The official would not go into detail, but said the engagements have brought "results" and that "our experts assess that our diplomatic efforts have slowed the PRC down."

"We think the PRC isn't quite where they had hoped to be," the official said. "The PRC will keep trying to enhance its presence in Cuba, and we will keep working to disrupt it."
Cash-strapped Cuba, long under far-reaching US sanctions which stretch back decades, is badly in need of such a significant infusion of Chinese funds.
However, it is important to remember that all nations globally tend to utilize their foreign embassies and consulates abroad to spy on other nations almost as a matter of routine. It's at this point unclear whether Chinese spy activities based out of Cuba as of yet go significantly beyond what's 'the norm'. The WSJ reporting definitely says this is the case. Kirby in rejecting the initial WSJ report didn't specify what aspect to the report the administration considers inaccurate.
But of course, for Congressional hawks as well as American media, any reporting that invokes the words "China" "spying" and the Western hemisphere broadly will be presented in the most alarmist tones possible. And yet, we can only imagine the level of US intelligence infrastructure in place across the South China Sea and among Washington's regional allies not far off China's coast, even firmly entrenched on the island of Taiwan. So from Beijing's perspective, Cuba is 'fair game' given Washington's longtime presence in Taiwan. For Americans, Monroe Doctrine assumptions are still alive and well, and deeply ingrained.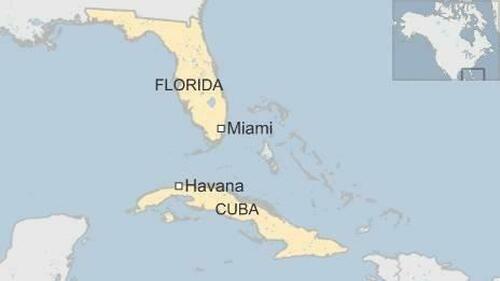 Meanwhile, WSJ reporting has resulted in a bit of a blame-game, with the administration saying this can't land in Biden's lap, but was inherited from the Trump administration (though without naming Trump). The White House is now stressing the problem goes back to prior administrations:
On Saturday, an administration official clarified by saying that the Chinese base in Cuba has already been established, noting that it didn't happen on their watch.

The administration official, who was granted anonymity to discuss a sensitive subject, said the Chinese spying effort has been an ongoing concern and that the U.S. has been taking steps to deal with it.

"When this administration took office in January 2021, we were briefed on a number of sensitive PRC efforts around the world to expand its overseas logistics, basing, and collection infrastructure globally to allow the [military] to project and sustain military power at greater distance," the official said, referring to the People's Republic of China.
But Republicans are pushing back and lashing out, with Rep. Mike Turner, chair of the House Intelligence Committee, saying Biden is "ignoring" the threat from China. "In less than 48 hours, officials from the Biden administration have contradicted themselves multiple times about whether or not the Chinese Communist Party is spying on the United States. This is unacceptable."
And the GOP chair of the House China Committee, Rep. Mike Gallagher blasted the administration's response to the initial WSJ report. "Why did the Biden administration previously deny these reports of a CCP spy base in Cuba?... Without a coherent explanation, we must conclude they are deliberately misleading the American people and whitewashing CCP aggression in order to revive the counterproductive strategy of engagement."
Loading...