---
WSJ Reporter's Pre-Trial Detention In Russia Extended Through August By Secretive Court
Russian court proceedings against American citizen and Wall Street Journal reporter Evan Gershkovich have continued to be shrouded in secrecy. At a Tuesday hearing, which was previously unannounced, a judge ruled to extend his pre-trial detention in Moscow's Lefortovo prison by three months.
He's been held since March when he was arrested on espionage charges, which he has vehemently denied, and the new court ruling has ordered him to stay in jail until at least August 30.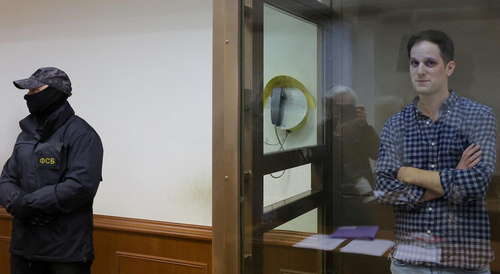 Russian media has indicated the hearing was not open to journalists or the public given he stands accused of possession of "secret materials" - and thus the proceedings are essentially classified.
The Associated Press has described Gershkovich as the "first U.S. correspondent since the Cold War to be detained in Russia on spying charges." 
Gershkovich's case is very serious as he faces 20 years in prison. The FSB claims he got caught "red-handed" in an attempt to obtain "information amounting to a state secret about the activities of one of the enterprises of the Russian military-industrial complex."
The US State Department had very quickly deemed him "wrongfully detained" - which means the Biden administration is approaching the case as a hostage situation, akin to the earlier Brittney Griner case.
So far, the Russian government or prosecutors have offered to the public nothing in the way of evidence, which is likely to remain the case - possibly through his potential later conviction. 
Russia has typically waited for legal proceedings and a conviction before seriously engaging in swap negotiations with Washington, as it did with the controversial trade of Griner for notorious US-held Russian arms trafficker Victor Bout.
At this point, the Special Presidential Envoy for Hostage Affairs is involved, utilizing interagency resources as well.
Interestingly, it took some months for Griner to be declared wrongfully detained, but in Gershkovich's case it has only took a few weeks. This suggests the US administration wants to see him back quickly, but given the seriousness of charges the process could be drawn out for years - short of a very high level prisoner swap which both sides find acceptable. 
Loading...