---
Xi, Assad Launch China-Syria Strategic Partnership Based On Belt & Road Initiative
Chinese President Xi Jinping and his Syrian counterpart Bashar al-Assad on Friday announced the launch of the China-Syria strategic partnership during a meeting in the eastern city of Hangzhou.
"Today, we will jointly announce the establishment of the China-Syria strategic partnership, which will become an important milestone in the history of bilateral relations," Xi told Assad.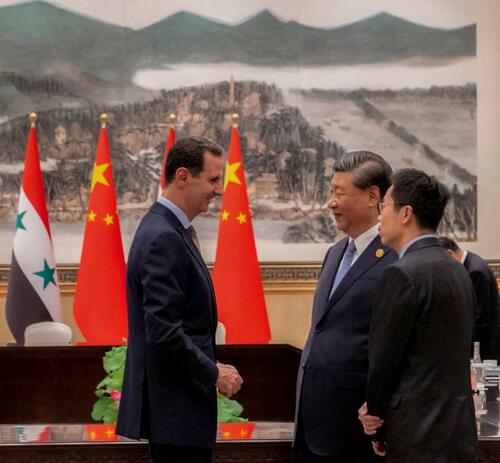 "Faced with an international situation full of instability and uncertainty, China is willing to continue to work together with Syria, firmly support each other, promote friendly cooperation, and jointly defend international fairness and justice," he added.
For his part, Assad expressed his "happiness" at being invited to China, a country he says "stands with the just causes of the peoples … which form the basis of Chinese policy in international forums and which are based on the independence of countries, respect for the will of the people, and rejection of terrorism."
It seems China is willing to send a message to the West, given the enthusiastic red carpet reception of Assad to the airport on Thursday, complete with military parade and welcome ceremonies...
مشاهد الاستقبال الرسمي لوصول الرئيس #بشار_الأسد والسيدة الأولى #أسماء_الأسد إلى مطار خانجو الدولي. pic.twitter.com/4hPQ9MKdtF

— Syrian Presidency (@Presidency_Sy) September 21, 2023
"This visit is important in its timing and circumstances, as a multipolar world is being formed that will restore balance and stability to the world," Assad continued.
"It is the duty of all of us to seize this moment for the sake of a bright and promising future, and I hope that our meeting today will establish broad and long-term strategic cooperation in various fields," the Syrian leader, who is under US sanctions said.
The two presidents also oversaw the signing of three cooperation agreements in the fields of economic cooperation and development, as well as a Memorandum of Understanding (MoU) "on the common context of a cooperation plan within the framework of the Belt and Road Initiative (BRI)."
President Assad in China today. pic.twitter.com/v6x2IxY806

— SAM 🇸🇾 (@SAMSyria0) September 22, 2023
Assad arrived in China on Thursday, leading a high-level political and diplomatic delegation in his first official visit to the Asian giant in nearly 20 years. Following his arrival, the Chinese foreign ministry said his visit would take China-Syria ties to a "new level."
Loading...