---
Zelensky Fires Top Defense Officials In Corruption Purge Ahead Of Washington Trip
Authored by Kyle Anzalone via The Libertarian Institute,
Ukrainian President Volodymyr Zelensky dismissed six high-ranking military officials. The sweeping firings come as the Ukrainian leader is traveling to Washington this week to lobby Congress to pass a multi-billion funding package for Kiev. 
Taras Melnychuk, permanent representative of the Ukrainian Cabinet of Ministers, announced the six deputy defense ministers had been fired from their posts on Telegram. The deputies were fired two weeks after Defense Minister Oleksii Reznikov was sacked over corruption. Melnychuk, or newly appointed Defense Minister Rustem Umerov, did not explain the reason for the recent terminations.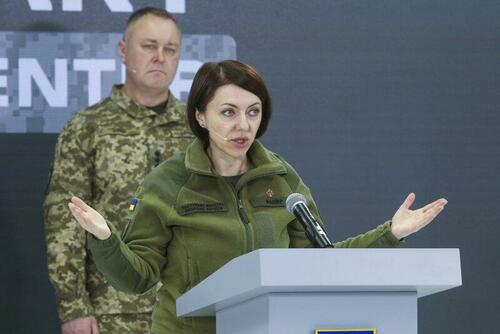 The New York Times reports Zelensky made the move to give the appearance of working to tackle corruption before he directly appeals to Congress for a new multi-billion dollar aid package.
"The shake-up in President Volodymyr Zelensky's wartime leadership team came as he headed to the United States, keen to demonstrate to American officials and other Western leaders that his government is not squandering — on either graft of mismanagement — the tens of billions of dollars in aid they have sent to Ukraine," the outlet explained. 
The Times notes the impact of firing the officials is more likely to be felt in the long term. "Battlefield decisions runs directly from Mr. Zelensky to the military's uniformed general staff, largely bypassing the civilians at the defense ministry, so the turnover is not expected to have an immediate effect on the course of the war," the outlet explained. "The ministry's role is primarily not in tactics but logistics — procurement, salaries and benefits — where changes may not be felt right away."
Ukraine was infamous for being the most corrupt country in Europe before the Russian invasion. Since then, Washington has sent Kiev over $100 billion in weapons and other direct financial assistance. 
The White House has fought against establishing an office to oversee aid shipments to monitor for corruption. The Pentagon inspector general has found that American weapons shipped to Ukraine lack proper documentation. The Special Inspector General for Afghan Reconstruction has warned that without sufficient oversight of aid, corruption will run rampant and undermine Kiev's military. 
More changes at the top in Ukraine's Ministry of Defence as new minister Rustem Umerov asks all his deputies - including high profile Hanna Maliar - to resign. According to ministry:
"Reboot of the system, complete renewal of the team by the new minister." pic.twitter.com/oYiIbrAILt

— Paul Adams (@BBCPaulAdams) September 18, 2023
Weapons from the war in Ukraine have already been found in the hands of European criminals and African militants. 
Last month, Zelensky made another sweeping move by firing the heads of all of Ukraine's recruitment centers. The president reported that an investigation found dozens of officials made millions of dollars selling Ukrainians medical waivers from military conscription. 
Loading...