---
Zelensky Throws Tantrum Over 'Weak, Absurd' NATO Stance On Ukraine Membership
It's become a familiar enough pattern by now: NATO countries make 'pledges', give billions in arms and other aid to Ukraine, commit to F-16 jets and training programs for Ukrainian pilots, and chart new military build-ups along NATO's eastern flank... but like the hit song from The Greatest Showman, it's actually "Never Enough". 
Despite AFP reporting Monday that NATO is set to drop its long-standing Membership Action Plan (MAP) in the case of Ukraine, President Zelensky is lashing out at the alliance's 'soft language' on membership. The Ukrainian leader scolded NATO, and by implicit extension the Biden administration, for refusing to lay out a clear timeline on Ukraine's future membership in the alliance. 
This even after Secretary-General Jens Stoltenberg has promised to push for a fast-tracked process to be implemented at that future point in time when the alliance is ready to seriously mull Ukraine's application, hence dropping the MAP requirement, a major hurdle which all other members had to endure between 1999 and 2020. A statement is now being carefully crafted by NATO heads of state in Vilnius on Ukraine's "path to membership," Reuters has confirmed.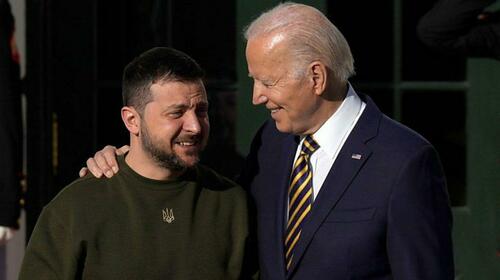 Just ahead of his arriving in Vilnius, where he's later expected to meet with President Biden on Wednesday, Zelensky issued an emotional warning for those not seen as strong enough on full NATO membership:
"This looks like there's neither readiness to invite Ukraine to NATO nor make it a member of the alliance," Zelenskiy wrote in the statement posted on Twitter and Telegram.

He said that such an "unprecedented and absurd" outcome leaves an opportunity to make Ukraine's NATO membership bid a trading chip in potential negotiations with Russia.
He further said in the lengthy tweet that "certain wording is being discussed without Ukraine" and that all of this only plays into Russia's hands. He more or less blamed his very backers for opening the door for Russia to "continue its terror". He wrote in part [emphasis ZH's]: 
While at the same time vague wording about "conditions" is added even for inviting Ukraine. It seems there is no readiness neither to invite Ukraine to NATO nor to make it a member of the Alliance.

This means that a window of opportunity is being left to bargain Ukraine's membership in NATO in negotiations with Russia. And for Russia, this means motivation to continue its terror. Uncertainty is weakness. And I will openly discuss this at the summit.
The NATO summit is expected to put out a very meticulously crafted statement on Ukraine's future path to membership. But the consensus remains that it's not going to happen at Vilnius, or anytime soon. Reuters is reporting the following: 
NATO ALLIES AGREE DECLARATION LANGUAGE ON UKRAINE MEMBERSHIP PATHWAY TO NATO - SOURCES
NATO TO OFFER UKRAINE FASTER PATH TO JOIN WHEN CONDITIONS MET
We value our allies. We value our shared security. And we always appreciate an open conversation.
Ukraine will be represented at the NATO summit in Vilnius. Because it is about respect.

But Ukraine also deserves respect. Now, on the way to Vilnius, we received signals that…

— Володимир Зеленський (@ZelenskyyUa) July 11, 2023
Biden in a CNN interview just ahead of his going to Vilnius emphasized that Ukraine's membership can't be seriously considered until after the ear is over. "I don't think there is unanimity in NATO about whether or not to bring Ukraine into the NATO family now, at this moment, in the middle of a war," Biden said at the start of the week.
"For example, if you did that, then, you know – and I mean what I say – we're determined to commit every inch of territory that is NATO territory. It's a commitment that we've all made no matter what. If the war is going on, then we're all in war. We're at war with Russia, if that were the case," he stressed - in an implicit reference to the Article 5 common defense treaty.
Biden in follow-up told reporters in Vilnius that so far his administration agrees with language proposed by Stoltenberg "relative to the future of Ukraine being able to join NATO."
But this is precisely what Zelensky is blasting as 'weakness,' apparently. Of course, as the war grinds on, Zelensky is unlikely to be happy or satisfied with anything short of NATO entering the war full-scale. And this of course would trigger a nuclear-armed WW3 hot conflict with Russia. Ukraine's sudden entry into NATO would result in the same.
Biting the hand that feeds you. https://t.co/o2sMKUSWeP

— David Sacks (@DavidSacks) July 11, 2023
As for Turkey's latest backing of Sweden's accession, the Kremlin has been relatively muted on this - simply issuing a statement warning of "negative consequences" if Sweden joins the alliance. Yet as The Washington Post notes, "Moscow understands that Turkey has obligations to the alliance," according to Peskov's words.
Loading...