---
10Y Auction Sees Solid Buyside Demand Despite Modest Tail
After yesterday's blowout, record 3Y auction, it seemed as if it was all downhill from there: after all, it would be difficult to repeat that particular stellar results with today's 10Y refunding auction. And while today's sale of $35BN in 10Y paper wasn't nearly as exciting, it was anything but ugly. In fact, aside for the modest tail which has become  a staple of 10Y auctions, it was rather solid.
Pricing at a high yield of 3.448%, barely down from last month's 3.455%, the auction tailed the 3.439% When Issued by 0.9bps; it was also the 3rd consecutive tail and the 15th tailing 10Y auction of the past 19. One can assign the tail to the post-CPI rally into the auction which saw yields slide from 3.50% to 3.45%.
The Bid to Cover was 2.45, up from last month's 2.36 and above the recent average of 2.41.
The internals were also solid with Indirects awarded 67.5%, above last month's 63.0% and well above the 64.8% six-auction average. And with Directs awarded 19.5%, roughly the same as last month and above the 18.3% recent average, Dealers were left with 13.0% of the auction, one of the lowest prints on record.
Overall, this was a solid auction, and while not as stellar as yesterday's record 3Y, largely because of the modest tail, one can explain the tail with today's solid rates rally; if one ignores that, then it is clear that buyside demand for US paper is only rising, and making it clear that few buyers have any debt ceiling/default fears.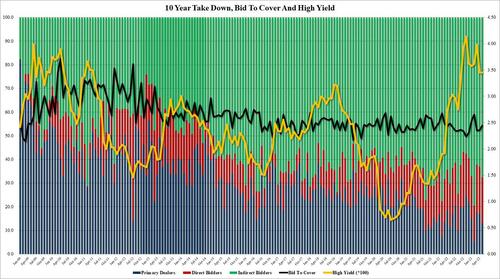 Loading...