---
Add Q2 GDP To List Of Economic "Data" Revised Sharply Lower By Biden Administration
Another data point, another major downward revision lower.
In the past month, the Biden Department of Goalseeking Stuff Higher Before Quietly Revising It Lower The Next Month (BDOGSHBQRILNM) has been busy, and after slashing jobs, JOLTS, new home sales, housing starts and permits and industrial production, moments ago it took the machete to Q2 GDP, which in the first revision of the "data" was just cut to 2.1% (or rather 2.07% to be specific), down from an initial "red hot" print of 2.4% which turned out to be nothing more than some overzealous political activist's excel adjustments, and well below the consensus estimate of 2.4%.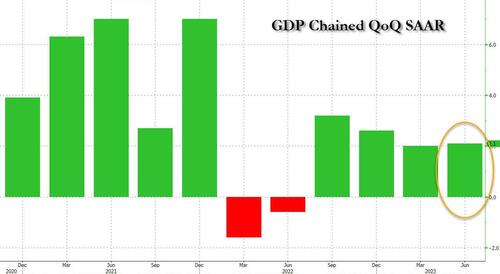 The revision according to the BEA, which stands for Biden's Economic Alterations, "reflected a smaller decrease in inventory investment and an acceleration in business investment. These movements were partly offset by a downturn in exports and decelerations in consumer spending and federal government spending. Imports turned down."  In short, everything was uglier,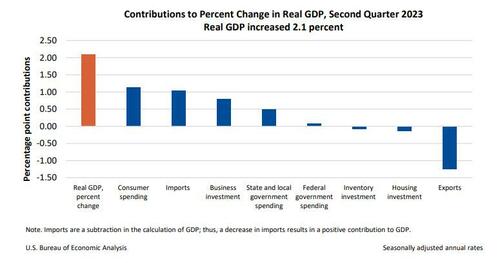 Taking a closer look at the data, we find the following changes to the bottom line:
Personal consumption added 1.14% to the bottom line print or just over half, up from 1.12% in the original print; annualized this comes out to 1.7% which was below the 1.8% estimate.
Fixed investment contributed 0.66%, down from 0.83%
Change in private inventories now subtracting 0.09% from the bottom line number, a big swing from the positive 0.14% print in the original estimate. And it will be revised even lower next month as more of the "shrink" emerges.
Net exports were  also revised lower, with gross exports trimmed from -1.28% to -1.26%, while imports were revised from 1.16% to 1.04%
Finally the ever handy plug that is government consumption (which is a garbage concept since the government does not actually create anything of economic value in the economy but merely allocated graft and embezzlement of public funding), actually rose from 0.45% to 0.58% (of bottom line GDP). Without this revision, Q2 GDP would have printed below 2.0%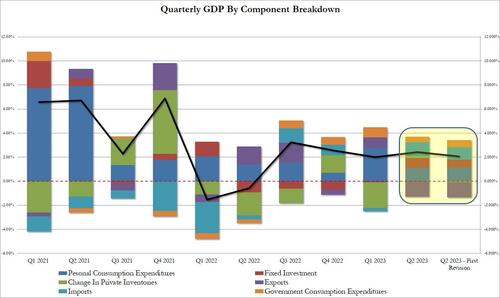 Separately, gross domestic purchases prices, the prices of goods and services purchased by U.S. residents, increased
1.7% in the second quarter after increasing 3.8 percent in the first quarter, above the 1.6% estimate last month but below the consensus 1.8%. Excluding food and energy, prices increased 2.4% after increasing 4.2%.
Personal consumption expenditure (PCE) prices increased 2.5% in the second quarter after increasing 4.1% in the first quarter. Excluding food and energy, the PCE "core" price index increased 3.7% after increasing 4.9%. This number was also revised lower from 3.8% and missed estimates of 3.8%.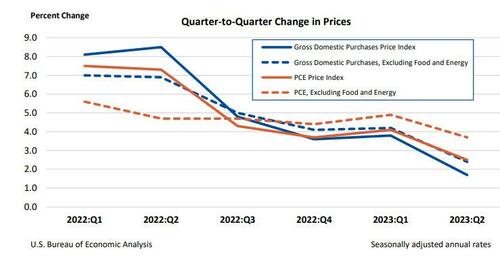 Finally, the BEA reported corporate profits decreased 0.4% at a quarterly rate in the second quarter after decreasing 4.1% in the first quarter. Profits of domestic financial corporations decreased 12.1% after decreasing 2.3 percent. Profits of domestic nonfinancial corporations increased 0.9% after decreasing 5.0 percent. Profits from the rest of the world (net)increased 4.4 percent after decreasing 2.0 percent. Corporate profits decreased 6.5 percent in the second quarter from one year ago.
Needless to say, all this is a far cry from the rebound in corporate profits that companies themselves reported in their various GAAP and non-GAAP metrics, which is to be expected in a world where there is now an uncrossable chasm between economic data and its government fabrications.
And now we wait for the Altanta Fed to slash its Q3 GDPNow estimate from 5.9% to 1%, because at this rate the final Q2 GDP revision next month will print well below 2.0%
Loading...