---
Airline Stocks Hit Turbulence After Alaska Air Signals Slowing Demand
Airline shares hit a rough patch of turbulence on Tuesday after Alaska Air Group Inc. reported sliding fares would dent third-quarter results and warned domestic air travel is beginning to soften. 
"There is a very discernible shift in traffic into international markets and we are really a domestic-oriented carrier, so that's having an impact in the third quarter on us," Alaska Air Finance Chief Shane Tackett said in an interview who Bloomberg quoted. 
Tackett said that fares that were "really strong" through June have declined from record levels in 2022 but remain above 2019 prices. Alaska expects domestic air travel to recover during winter when consumers "have taken their trips to Europe" and resume shorter flights over the holidays.
Shares of the budget airline carrier plunged 12%, the most since June 2020, or around the time many flights around the world were canceled because health authorities said it would stop the spread of Covid-19.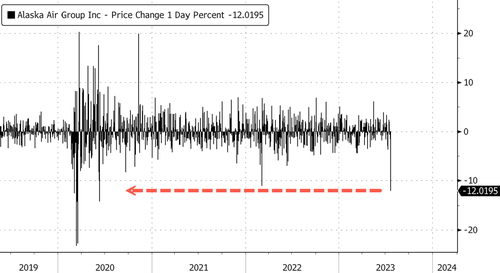 Other airlines tumbled on this news, with the S&P Supercomposite Airlines Industry Index sliding 5%, the most intraday since April.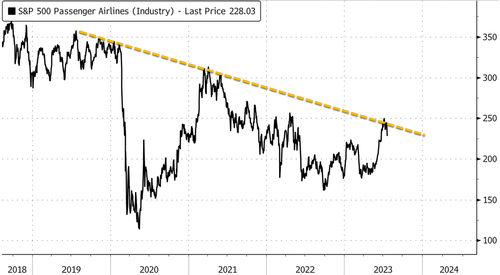 This summer, the peak of air travel was during the Fourth of July weekend when Transportation Security Administration (TSA) security checkpoints at airports hit a new record. TSA data still shows near-record high throughput at airports, but that could soon be waning on a weakening consumer.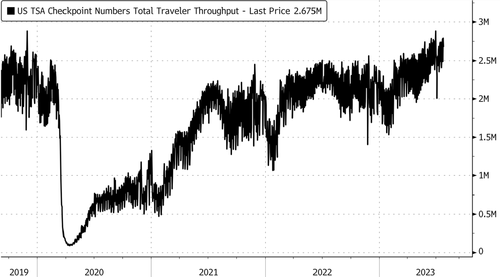 In a separate note, Bloomberg believes airlines risk a hard landing after the summer travel surge: "Jam-packed airports, elevated ticket prices and cheery commentary from corporate executives all pointed to strong demand for air travel this summer, helping airline stocks stage a torrid rally heading into the second-quarter earnings. But the road ahead now is starting to look bumpy now."
Loading...