---
Bankrupt Evergrande Crashes As Much As 87% After Resuming Trading Following 17 Month Halt
Shares of bankrupt (former) Chinese property giant, Evergrande Group, crashed 79% on Monday, their first trading day following a suspension of more than 17 months. The stock of the embattled real estate developer - which trade in Hong Kong under what was supposed to be the "lucky" ticker 3333 - opened 87% lower and ended the day at 0.35 Hong Kong dollars. Trading had been halted since March 21, 2022, when shares were priced at HK$1.65. Evergrande was the most traded stock in Hong Kong on Monday, with about 1.85 billion shares changing hands.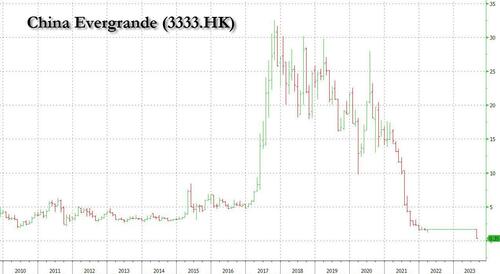 Evergrande said that a meeting with creditors to discuss offshore debt restructuring has been pushed back from Monday to Sept. 26 citing various reasons for the delay, including "numerous media reports which have wholly mischaracterized the restructuring recognition under Chapter 15" of the U.S. bankruptcy code.
As reported previously, the company filed for bankruptcy protection in a New York court on Aug. 17, a technicality since the company had defaulted on its debt almost two years earlier. The company's bonds remain frozen and do not trade in the secondary market.
Evergrande was once China's largest real estate developer but defaulted on a number of debt obligations, leaving homeowners with unfinished homes and suppliers with unpaid bills. As Nikkei reports, the company applied for the trading suspension to be lifted on Friday evening after it said it had cleared various conditions set by the Hong Kong Exchange, including the release of financial reports.
The results for the first six months of the year were announced Sunday night, with the company reporting a net loss of 33.01 billion yuan ($4.53 billion), better than the 66.35 billion yuan loss a year ago, but still catastrophic. Then again since Evergrande is bankrupt and insolvent, it hardly matters.
The distressed developer posted long-overdue annual earnings reports for the last two years on Aug. 16, revealing a combined net loss of a record 581.94 billion yuan, a reversal from 8.07 billion yuan in net profit in 2020 prior to a crackdown by Beijing on the industry.
The company said in its Sunday night filing that its financial status is still precarious. Its total cash and cash equivalents, including restricted cash, was 13.38 billion yuan as of the end of June, while net current liabilities were 713.10 billion yuan. The company also said that "it is involved in various litigation and arbitration cases for various reasons."
Its electric vehicle unit China Evergrande New Energy Vehicle Group on Friday night separately announced a net loss of 6.86 billion yuan for the first six months of the year, compared to a net loss of 13.36 billion yuan a year ago. Similar to its parent, the EV subsidiary's financial position remains strained, as its cash and cash equivalents including restricted cash came to 117 million yuan as of the end of June, while its net current liabilities stood at 36.61 billion yuan.
The company also revealed that it has 9.34 billion yuan of unpaid debt and 3.59 billion yuan of overdue commercial bills, and has 48 pending litigation cases involving 10.88 billion yuan.
As part of the financial restructuring, China Evergrande Group has proposed selling part of the EV unit to NWTN (Zhejiang) Automobile, a Nasdaq-listed, Dubai-headquartered mobility product company founded by Chinese entrepreneur Alan Nan Wu.
NWTN is willing to acquire 27.5% of the enlarged share capital of Evergrande's EV unit for HK$3.88 billion to "support [the] business recovery and growth" of Evergrande Group. The new shares will be issued at HK$0.6297 apiece, representing a 63% discount to the stock price when the agreement was signed on Aug. 14.
Evergrande Group and its major shareholders, including founder Xu Jiayin, also known as Hui Ka-yan, have also agreed to convert their loans into a total of 5.44 billion new shares, at a price of HK$3.84 a piece. The Hong Kong-listed shares of the EV unit closed at HK$1.22 on Monday.
Loading...