---
Beijing Signals It's Not Just All Talk This Time
By Charlie Zhu and Helen Sun, Bloomberg Markets Live reporters and strategists
Three things we learned last week:
1. It looks like China's markets may be on an inflection point, finally. The mainland stock benchmark CSI 300 Index gained 4.5% last week, marking its best performance since November. A gauge of tech shares in Hong Kong entered a bull market.
Chinese shares surged Tuesday after senior leaders vowed again to shore up economic growth, before paring the gains in the following two sessions due to skepticism about a dearth of detailed measures. The rally resumed Friday as signs emerged that policymakers aren't just paying lip service to their support pledges.
"The recognition of a new supply-demand paradigm in real estate helped to open policy space," Citigroup strategists led by Gaurav Garg wrote in a note, adding the reference to a holistic resolution to local debt issues also helped contain fears of a blowout.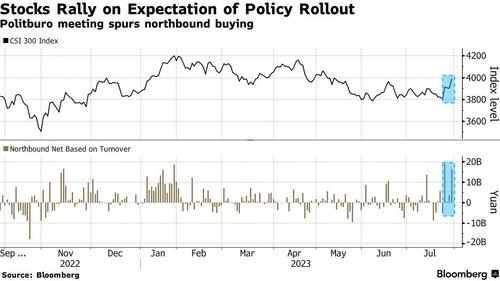 2. With signs of stress plaguing some developers once considered safe, investors may need to brace for more volatility in credit markets. A local risk assessor put bonds issued by Country Garden's onshore unit on its watch list, and the major builder's dollar notes slumped as JPMorgan downgraded the firm's stock rating to underweight.
Meantime, state-backed Sino-Ocean Group is seeking investor approval to extend three dollar-note coupons by two months
"Constraints on the actions that China can undertake may not be well appreciated," Chang Wei Liang, a strategist at DBS Bank, wrote in a note. "A nuanced view to Chinese credit is still warranted."
3. There are growing indications that authorities are taking concrete action to address some of the biggest market concerns. Among the catalysts for Friday's stock gains was news that signaled regulators' intention to support tech investments. A separate report on the possibility of a cut in stamp duties helped too.
The housing minister urged regulators and lenders to strengthen efforts to revive the ailing property sector, calling for homebuyers who had paid off previous mortgages to be considered first-time purchasers.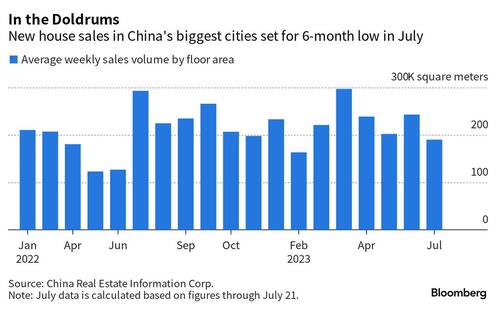 Loading...