---
Best Buy Issues Warning Ahead of Black Friday: 'Consumer Demand Unpredictable and Inconsistent' 
Days before Black Friday, one of the busiest shopping days of the year in the US, electronics retailer Best Buy posted weaker-than-expected third-quarter revenue and lowered guidance, warning about a deteriorating macro environment as "consumer demand has been even more uneven and difficult to predict."
Chief Executive Corie Barry said, "We are reporting better-than-expected profitability on slightly softer-than-expected revenue for the third quarter. These results demonstrate our ongoing, strong operational execution as we navigate through the near-term sales pressure our industry has been experiencing for the past several quarters."
However, Barry warned: "In the more recent macro environment, consumer demand has been even more uneven and difficult to predict. Based on the sales trends in Q3 and so far in November, we believe it is prudent to lower our annual revenue outlook. The midpoint of our annual non-GAAP diluted EPS guidance is slightly higher than the midpoint of our original guidance as we entered the year."
She said the electronics retailer is "prepared for a customer who is very deal-focused" this holiday shopping season. Or, as we've noted, "Choiceful." 
In the third quarter ending October 28, Best Buy's sales were $9.76 billion, marking a decline of almost 8% from the previous year and falling short of analysts' expectations of $9.9 billion.
Comparable sales, which adjusts for store openings and closings, slid by a steeper-than-expected 6.9%.
Here's a snapshot of Best Buy's third-quarter earnings:
Enterprise comparable sales -6.9% vs. -10.4% y/y, estimate -5.71%

International comparable sales -1.9% vs. -9.3% y/y, estimate -4.19%

US comparable sales -7.3% vs. -10.5% y/y, estimate -5.98%

US entertainment comp sales +20.6% vs. -4.6% y/y, estimate +5.67%

US appliances comparable sales -15.1% vs. -9.6% y/y, estimate -8.2%

US computing & mobile phone comparable sales -8.3% vs. -11.4% y/y, estimate -6.4%

US consumer electronics comparable sales -9.5% vs. -12.8% y/y, estimate -6%

US online comp sales -9.3% vs. -11.6% y/y

Adjusted EPS $1.29 vs. $1.38 y/y, estimate $1.18

Revenue $9.76 billion, -7.8% y/y, estimate $9.9 billion

US revenue $9.00 billion, -8.2% y/y, estimate $9.15 billion

International revenue $760 million, -3.4% y/y, estimate $755 million

Online revenue as a percentage of total US revenue 30.6% vs. 31% y/y

Gross margin 22.9% vs. 22% y/y, estimate 22.9%
Best Buy expects annual comparable sales to fall from 6.0% to 7.5%, citing weaker fall trends compared with its previous range of a 4.5% to 6% drop. 
Sees comparable sales -6% to -7.5%, saw -4.5% to -6%, estimate -5.21% (Bloomberg Consensus) 

Sees adjusted EPS $6 to $6.30, saw $6 to $6.40, estimate $6.19

Sees revenue $43.1 billion to $43.7 billion, saw $43.8 billion to $44.5 billion, estimate $44.16 billion
Higher interest rates, a shift in consumer spending from goods to services, and the return of student loan payments have further weakened demand for electronics following a surge in demand during the Covid pandemic. 
Shares of Best Buy in premarket trading were down 4%.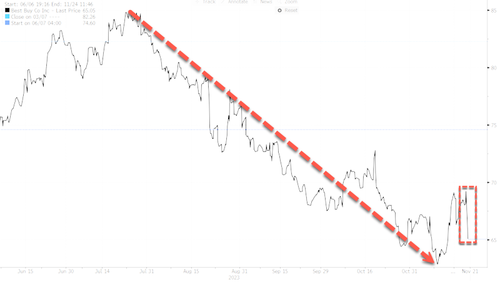 Meanwhile... 
The state of the consumer:
- Abercrombie & Fitch falls 5.9%
- Kohl's falls 5.2%
- Lowe's falls 4.3%
- Best Buy falls 4.5%
- American Eagle plunges 9%

— zerohedge (@zerohedge) November 21, 2023
Morgan Stanley's Mike Wilson may have been correct in his report a few months ago when he warned that 'consumers are falling off a cliff'. 
Loading...