---
Biden 'Not Worried' About Major UAW Strike On Automakers 
President Biden on Monday expressed that he wasn't too concerned about the growing possibility of a labor strike from the United Auto Workers' 146,000 members. They're seeking a 46% salary hike, a 32-hour workweek, and restoration of traditional pensions from Detroit's big three legacy automakers. 
"I'm not worried about a strike. I don't think it's going to happen," Biden told reporters ahead of his Labor Day appearance in Philadelphia. He is expected to celebrate good-paying unionized jobs, a move to continue the 'Bidenomics' promotion ahead of the 2024 presidential election cycle.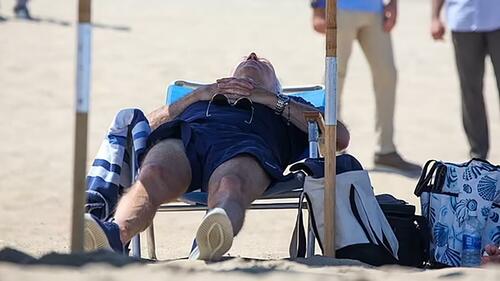 General Motors Co., Ford Motor Co., and Stellantis NV, maker of the Jeep and Chrysler brands and the UAW have until Sept. 14 to finalize a new four-year contract for union workers. Even UAW's own president called demands "audacious" in a Facebook live video last week. 
"Record profits mean record contracts. 

"While big execs have used those extreme profits to pump up their pay, our members have fallen further and further behind. ... The rich are getting richer while the rest of us are getting left behind," UAW President Shawn Fain said. 
Here are more of Fain's "audacious" demands (list courtesy of Detroit Free Press): 
elimination of wage tiers

substantial wage increases

restoration of cost of living allowance increases

defined benefit pension for all workers

reestablishment of retiree medical benefits

the right to strike over plant closures

limits on the use of temporary workers

more paid time off

increased benefits to current retirees
The Detroit News has described the demands as "the largest pay increase in recent memory." 
With a Sept. 14 deadline less than two weeks away, we have noted, "Automakers have historically resisted significant pay increases, especially this unusually large one."
Biden had previously urged Detroit's big three legacy automakers to avoid plant closings if strikes were seen. 
A recent Gallup survey revealed that approximately 75% of Americans favor auto workers and Hollywood film writers' strikes.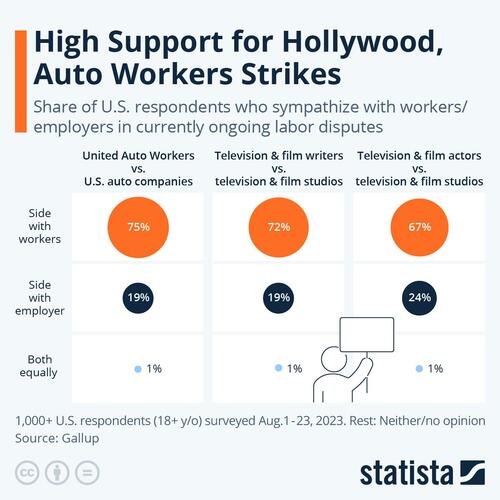 The sweetheart deal Teamsters got their workers at UPS appears to have emboldened other unions to do the same: strike. But as BofA CIO Michael Hartnett recently told clients (available to pro subscribers) in the latest weekly Flow Show, inflation appears to be stickier than previously believed because of the growing influence of labor unions. 
Hartnett makes another tangent on why reflation is bound to be far stickier than the Fed expects, and it has to do with wages, and specifically the growing influence of labor unions: after the teamsters recently reached an agreement with UPS, which among other things included massive pay raises for both part-time and full-time workers, we are seeing strikes galore and labor unions aggressively negotiating for double-digit wage increases. The culmination of this is that, as Hartnett notes, a net 44% of Americans now support labor unions, the highest since '72...
Let the strike countdown begin -- unless there's a labor contract breakthrough between UAW and the automakers. 
Loading...