---
Biden Opens Diplomatic Ties With Cook Islands & Niue In Bid To Steer Pacific Away From China
In what's being called a jab at China, President Biden in a Monday statement recognized the Cook Islands and Niue as "sovereign and independent" states, and formally opened diplomatic relations with them.
Bloomberg has underscored this is being done to directly "counter" China: "President Joe Biden announced that the US would establish diplomatic relations with the Cook Islands as his administration seeks to strengthen ties with Pacific island nations and counter Beijing's growing influence in the region," a Monday report said.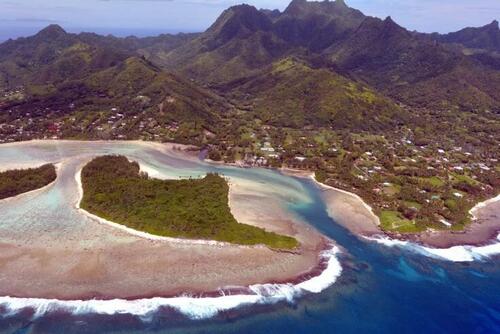 Biden is currently hosting the leaders of Pacific Island nations in Washington D.C. for an event called the US-Pacific Island Forum Summit, and during the high-level talks said "the history and the future of the Pacific Islands and the United States are inextricably linked."
He explained: "The United States' recognition of the Cook Islands, and the establishment of diplomatic relations will not only strengthen the ties between our nations, it will help ensure that our shared future is more secure, more prosperous, and more free — for our people and people around the world."
The summit includes representation of the following countries: Australia, the Cook Islands, Micronesia, Fiji, French Polynesia, Kiribati, Nauru, New Caledonia, New Zealand, Niue, Palau, Papua New Guinea, the Republic of the Marshall Islands, Samoa, Solomon Islands, Tonga, Tuvalu, and Vanuatu - according to a press release.
Leaders from these countries were already in the United States throughout last week's UN General Assembly, and stayed for the key Pacific Island summit.
But one important nation did not, and its absence highlights growing regional tensions between Washington and Beijing: 
But the administration was "very disappointed" that Solomon Islands Prime Minister Manasseh Sogavare, who was in New York last week for the U.N. General Assembly, opted not to stick around for the White House summit, according to an administration official. The Solomon Islands last year signed a security pact with China.
Regarding the Cook Islands, it remains that the US is still far behind China in establishing formal ties. China along with over 50 other countries have already long recognized it. Cook Islands has long had a "free association" arrangement with New Zealand, and most of its residents maintain New Zealand citizenship.
Biden can't even remember where all the money is going:

"We're working with Congress to invest $40 billion in our Pacific Island's Infrastructure Initiative. We call it the P G, P I— anyway, doesn't matter what we call it, but that's what it is!" pic.twitter.com/QfGzZglBOg

— Citizen Free Press (@CitizenFreePres) September 25, 2023
Given US recognition is very belatedly coming at a moment of simmering tensions and a low-point for US-China relations, Beijing is likely to see Biden's announcement as yet more geopolitical maneuvering for influence in the region, aimed at thwarting China alignment among small nations.
Loading...