---
BJ's Blows It & Dick's Shrink: Consumer Concerns Spook Stocks, Flattens Yield-Curve
With all eyes on NVDA's earnings tomorrow, today saw retailers and banks suffer (earnings in the former raising questions about America's "strong consumer", and S&P downgrades banks amid "tough" climate), as Philly Fed Services and Existing Home Sales disappoint on the macro side.
Retailers tumbled the most since May today as Macy's saw credit card losses rising faster than expected, Lowe's saw DIY discretionary spend decline, Dick's suffered serious shrink (organized theft), and while big box retailer's BJ's did not indicate any major credit card concerns, it did lower guidance by 1.5% as same-store sales came in light...
The S&P Retail sector fell to two-month lows...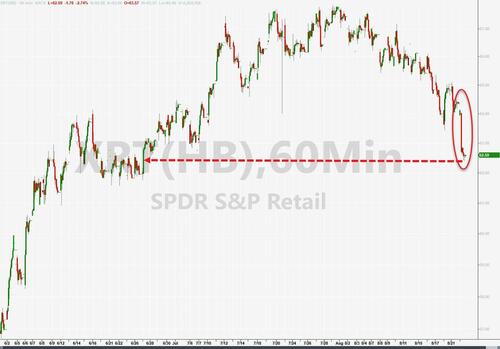 Nike dropped for its 9th straight day to its lowest since Nov '22 - its longest losing streak in history...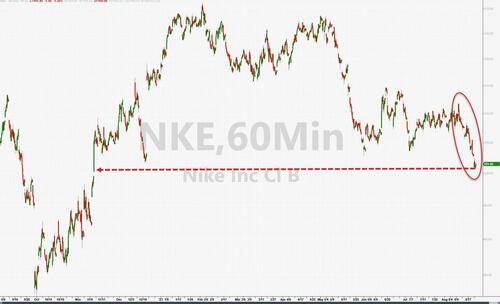 Banks - big and small - suffered on the day with Regional banks down almost 3% to 6 week lows after S&P's downgrade...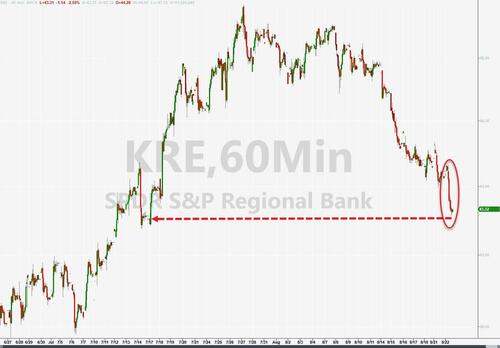 Schwab tumbled for its 11th straight day, the longest losing streak since 2004...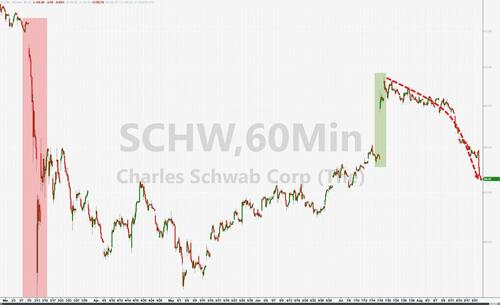 Meanwhile, the AI boom may be showing cracks.
NVDA rallied in the pre-market up to record highs, ran those stops, and then tumbled for the rest of the day...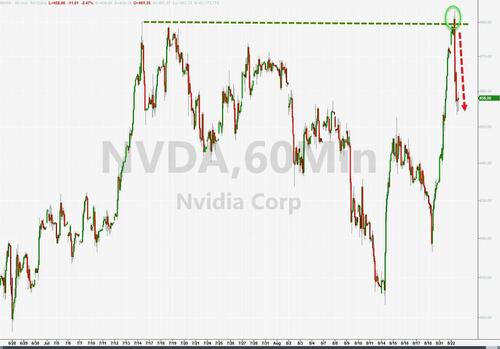 The timing is good..."you are here"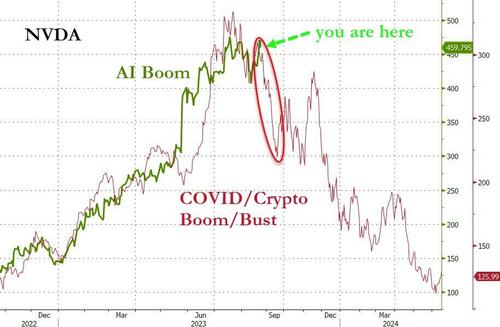 Source: Bloomberg
The basket of 'Most Shorted' stocks tumbled in to a bear market today, down 21% from its July 31st peak...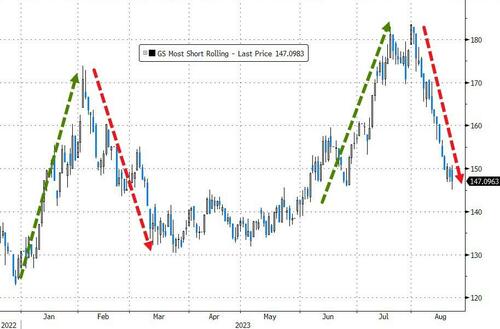 Source: Bloomberg
All of which sparked some chaotic price action in the majors with The Dow lagging and Nasdaq battling for green all day. The European session saw the big gains today as selling started early in the US session and continued through lunch...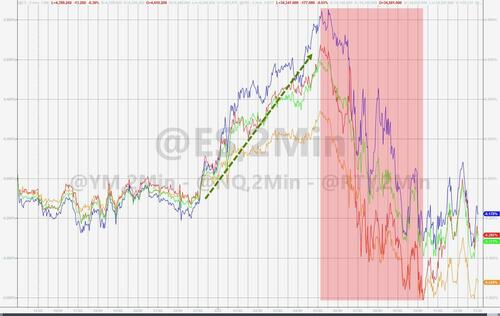 0-DTE traders fought the downtrend in NVDA all day (heavy call-buying trying to spark a 'gamma squeeze')...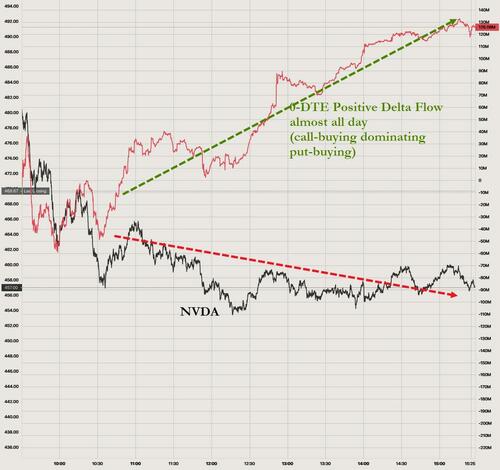 VIX was down on the day vol-of-vol (VVIX) tumbled...
Source: Bloomberg
Treasuries were mixed today with the short-end lagging (2Y +3.5bps, 30Y -4bps). On the week, yields are still higher with 30Y the least ugly horse in that glue factory...
Source: Bloomberg
Which dramatically flattened (inverted deeper) the yield curve (2s30s)...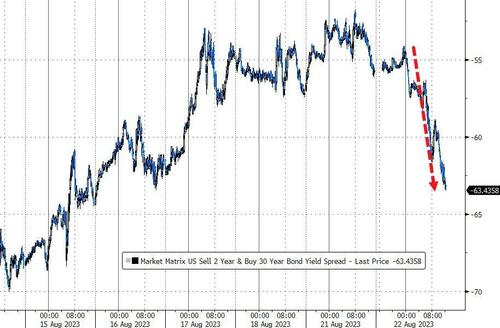 Source: Bloomberg
Interestingly, amid the 'weakness' - retailers, consumer, housing, banks - the market's expectations for Fed rates actually continued its hawkish shift higher...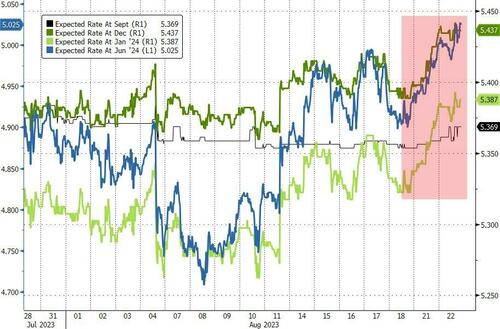 Source: Bloomberg
The dollar was practically unchanged on the day with Asian session weakness erased during the European session...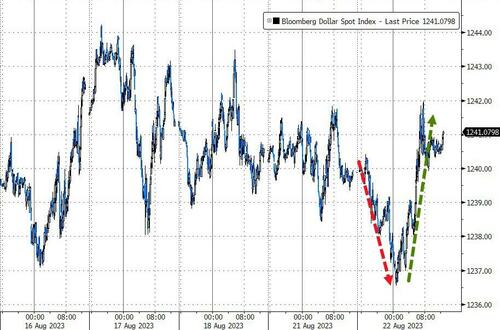 Source: Bloomberg
Crypto was chaotic today with some wild swing in Bitcoin around $26,000...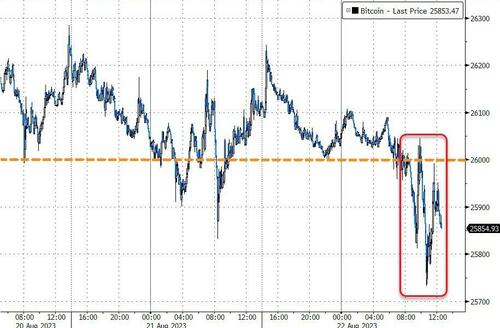 Source: Bloomberg
Oil prices limped lower again ahead of tonight's API inventory data with WTI back below $80...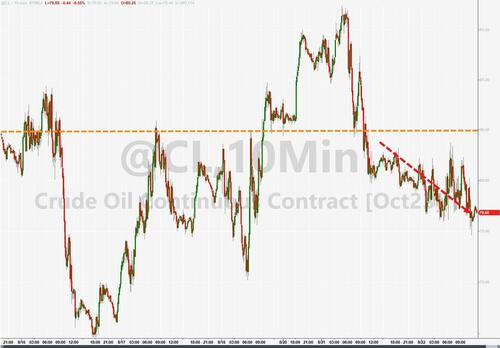 Spot Gold tried (and failed again) to top $1900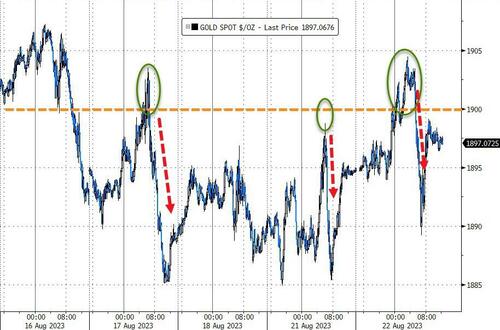 Source: Bloomberg
UBS warns that its CTA model is now short gold and remains long oil (noting that gold short position could accumulate quickly next week):
Gold saw its fourth consecutive down week and it was enough for our model to initiate a short position after remaining neutral since early July due to a prevailing positive trend strength.

The Gold short is set to grow under all projected price paths next week.

The Oil long continued to grow last week, but the growth is projected to slow, even on a bullish path, or get stopped out on a bearish path.

Our CTA model is projected to sell both Copper and all three Soybean underlying assets next week.
Finally, VIX seasonality is starting to hot up...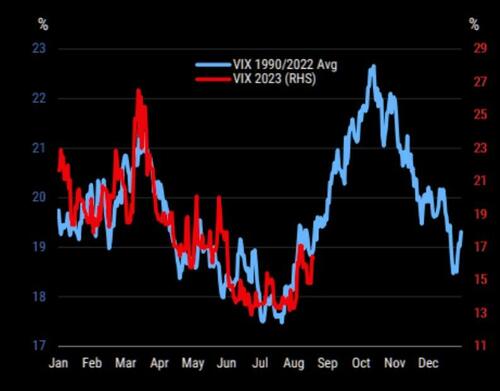 Pray to the gods of AI or else...
Probably nothing...
Loading...