---
BoE 'Too Hot', ECB 'Too Cold', Fed 'Just Right'
Authored by Simon White, Bloomberg macro strategist,
On current projections, the ECB is expected to have the least restrictive real rates of the Federal Reserve, BOE and the ECB. The BOE's real rate is expected to rise the fastest, leaving the spread between nominal UK and euro-zone short-term rates prone to narrowing.
The ECB hiked its interest rate on Thursday, with the market anticipating that's the last rise this cycle. Ditto for the Fed, while rather optimistic pricing expects at least one more hike for the BOE.
But to see the full tightening impact of rate rises, we need to look at them in relation to inflation, i.e. real rates, which we can do using CPI fixing swaps.
This tells a tale of three central banks.
While the Fed's real rate is expected to hold steady between 2-3% over the next year, the ECB's is expected to rise quickly from ~-1% to +1% in the coming months, but then barely go much higher – and hit a much lower peak real rate than the Fed is expected to reach.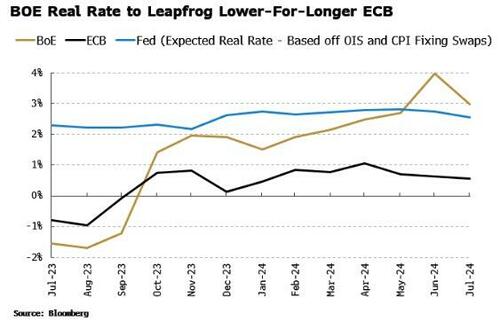 The BOE's real rate is expected to see the most dramatic rise.
The UK, from having one of the lowest real rates at the moment, is expected to see it leapfrog the Fed and the ECB's real rates in the coming months.
The BOE was always the bank that was at most risk of overtightening. The UK economy is fragile and sluggish, inflation is expected to mechanically fall further, yet real rates are currently expected to peak at +4% next year. Higher rates have already taken UK company insolvencies to near the highs they reached in the GFC.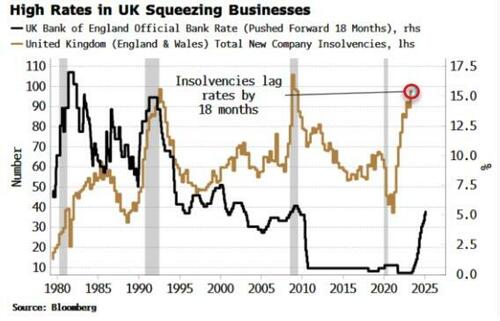 The ECB was also at risk of overtightening. The euro-zone economy was fundamentally weaker than survey-based data was implying. Money growth remains one of the best leading indicators for European growth, and it has been unequivocally pointing down since last year. Growth will likely follow suit and weaken further.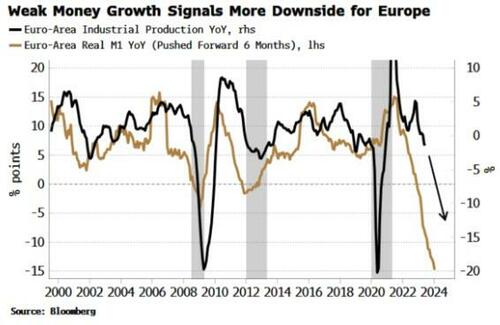 Nonetheless, euro-zone CPI is very sensitive to oil prices, which are now rising. With the region expected to have the lowest real rates, the ECB is most at risk of having to tighten more.
A BOE that may find it has overtightened and an ECB that could find the opposite means the spread between UK and euro-zone short-term rates is prone to narrowing.
Loading...