---
Broadcom Recovers Losses After Google States "No Change" In Chip Relationship 
Update (1234ET):
Broadcom's stock recovers some of its losses after Google announced that it foresees "no change" in its relationship with the chip manufacturer. This statement comes in response to an earlier report by The Information, which claimed that Google aimed to cut ties with Broadcom for AI chips by 2027 and produce them in-house.
GOOGLE SAYS IT SEES "NO CHANGE" IN BROADCOM CHIP RELATIONSHIP

— zerohedge (@zerohedge) September 21, 2023
Here's Google's full statement:
"We are productively engaged with Broadcom and multiple other suppliers for the long term. Our work to meet our internal and external Cloud needs benefit from our collaboration with Broadcom; they have been an excellent partner and we see no change in our engagement."
Broadcom shares have recovered most losses on the session.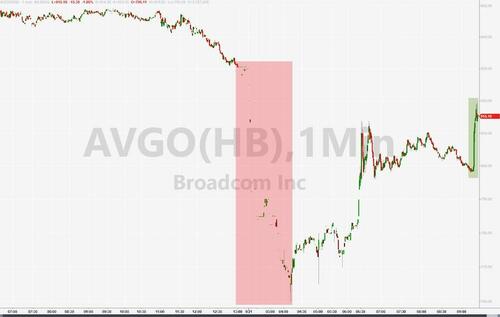 *   *   * 
Broadcom Inc. shares fell in premarket trading in New York following a report from The Information that detailed Alphabet-owned Google has "extensively discussed dropping Broadcom as a supplier of artificial intelligence chips as early as 2027."
According to a person with direct knowledge of the discussions, Google execs plan to develop in-house AI chips, known as tensor processing units, that could save the tech giant billions of dollars annually as it invests heavily in AI data centers.
"Google executives set a goal earlier this year to ditch Broadcom following a monthslong standoff between the companies over the price Broadcom was charging for the TPU [Tensor Processing Unit] chips," the person said. 
Breaking free from Broadcom will allow Google to profit handsomely off these chips and, most importantly, directly control its AI costs. The Information noted Broadcom generates a 70% profit margin on TPU and network chips. 
In July, Google CFO Ruth Porat told analysts on an earnings call the company spent $13.2 billion on capital expenditures, including data centers, in the first half of 2023. She expects AI investments in data centers to continue surging through 2024 while the company continues to develop AI products, such as its Bard chatbot and AI services for Google Cloud customers. 
The Information explained Google's AI investment spending spree has made Broadcom billions and transformed it into one of the world's largest AI chip sellers after Nvidia by revenue over the last year. 
In May, JPMorgan analyst Harlan Sur projected that Google would spend $3 billion on TPUs from Broadcom this year, citing "recent order acceleration." SemiAnalysis forecasts that this amount is expected to climb to $7 billion next year and even higher in the years after, driven by AI demand. 
Broadcom shares slid as much as 6% in premarket trading.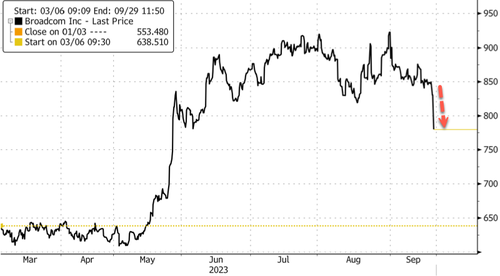 Google's move to explore in-house AI chips echoes Amazon and Microsoft's strategy of creating specialized in-house chips for AI. 
The only question is if all this investment is worth it, as JPMorgan's top tech trader Ron Adler made a striking admission last week, detailing how the AI bubble just popped (full note available to pro subs). 
Loading...