---
Buffett Buys One Of Only Seven US LNG Export Terminals In $3.3 Billion Deal
Buffett's Berkshire Hathaway Energy has agreed to buy Dominion Energy's 50% stake in the Cove Point liquefied natural gas (LNG) export project in Lusby, Maryland - a one-train terminal with an annual export capacity of 5.25 million tons - for $3.3 billion.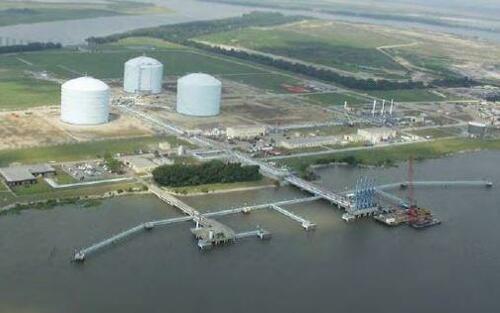 The deal will boost the company's limited partnership ownership of the terminal from 25% to 75%, with a unit of Brookfield Infrastructure Partners holding the remaining 25%.
The purchase, according to Bloomberg,  will give Berkshire control of one of just seven operational US facilities that can export LNG at a time when the fuel has gained increased economic and geopolitical significance amidst sanctions on Russia over its invasion of Ukraine.
Berkshire Hathaway first bought a stake in Dominion's gas pipeline and storage assets for $4 billion in 2020. Greg Abel, Berkshire Hathaway Energy's chairman and former CEO, previously told CNBC the deal in 2020 was made through a strong relationship he had with the prior Dominion CEO Tom Farrell.
Cove Point, which is located in Lusby, Maryland, about 60 miles southeast of Washington DC, is contracted on a long-term basis to companies including Tokyo Gas and Sumitomo.
In a separate statement, Dominion Energy, which has been conducting a business review, said that it will use the proceeds to repay debt.
Robert Blue, Dominion's chief executive, said the company considers Cove Point a "non-core" business, and selling it would free it to focus on state-regulated utility operations.
While the deal, which was announced Monday, isn't large in size for Berkshire, it builds on a growing bet on energy infrastructure at the conglomerate as it gains control of one of the rare functional facilities in the U.S. that can export LNG.
"It builds on their long-term theme of energy resources becoming more valuable and ownership of one of only a few US LNG exporters," said Bill Stone, chief investment officer at Glenview Trust and a Berkshire shareholder.
In 2022, Berkshire proposed spending nearly $4 billion to help generate more wind and solar power in Iowa. At the same time, CNBC notes, the conglomerate has been dramatically increasing its exposure to two traditional energy companies — Occidental Petroleum and Chevron.
"Buffett has liked pipelines for a long time, given their toll bridge-type revenues rather than pure commodity exposure, and this is likely similar," Stone said. "Natural gas prices are down a ton, but I think most of these exporters work on long-term take or pay contracts."
Loading...