---
Burberry Shares Tumble Most In Decade On Luxury Spending Slowdown 
Shares of Burberry Group PLC tumbled the most in a decade on Thursday following an announcement that the British trenchcoat manufacturer is unlikely to meet its yearly revenue targets, citing a global downturn in luxury spending. 
For the Sept. 30-ending second quarter, Burberry said falling sales in the US and a downturn in China led to comparable-store sales increase by only 1%, compared to 18% in the year's first quarter. The company warned revenue targets for the year ending March 2024 won't be met and noted that profits will be on the lower end of analysts' forecasts. 
Shares declined as much as 11% following the news, the steepest intraday drop since the 20% plunge on Sept. 11, 2012.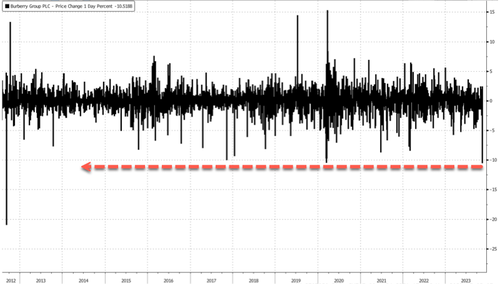 Even with half-year operating profits at $276.64 million, or 15% from last year, CEO Jonathan Akeroyd said Burberry said the company was making "good progress" on strategic goals. 
"We continued to build momentum around our new creative vision with the launch of our Winter 23 collection in September, the first designed by Daniel Lee," Akeroyd said in a statement.
He added, "While the macroeconomic environment has become more challenging recently, we are confident in our strategy to realize our potential as the modern British luxury brand, and we remain committed to achieving our medium and long-term targets."
Meanwhile, softer demand for luxury goods has recently weighed on several large fashion houses. 
Last week, luxury group Richemont was the latest evidence of faltering consumer demand for luxury watches, jewelry, and clothing. The owner of Cartier Jewelry reported first-half profits that missed Wall Street's forecasts. 
Richemont Chairman Johann Rupert said on a call with analysts that inflation, slowing economic growth, and rising geopolitical tensions hurt sentiment, while the full effects of interest rates have yet to be seen. 
Also last week, the company behind Don Julio tequila, Diageo, saw shares plunge, following a warning about a "materially weaker" performance in Latin America and the Caribbean.
In October, luxury conglomerate LVMH, controlled by billionaire Bernard Arnault, reported sliding demand for high-quality products, such as leather goods, perfumes, watches, and wine, in China, Europe, and the US.
A global luxury downturn is an ominous sign the economy is headed for some landing, if that is 'hard' or 'soft' following central banks' most aggressive monetary tightening spree in a generation to tame inflation.  
Loading...