---
Cable Slides As Core UK Inflation Unexpectedly Soars To 31 Year High
UK inflation printed hotter than expected for the 4th straight month in May, with headline CPI up 8.7% YoY (well above the 8.4% exp), and core inflation, excluding food and energy, soaring unexpectedly to a 31-year high of 7.1%...
Source: Bloomberg
In the detail of the figures, price rises again easily offset price cuts with significant increases in the cost of air fares, package holidays, live music events, games and toys. These were partially offset by falling prices for petrol and diesel.
Food price inflation dipped from 19 per cent in April to 18.3 per cent in May, but the cost of food itself in supermarkets still rose 0.9 per cent in the month of May alone.
The hot inflation print piles more pressure on the Bank of England (BoE) to act and act aggressively when it meets tomorrow with the terminal rate now above 6.00% within a year and June expectations are now at 33bps (i.e. around a 50% chance of a 50bps hike)
"There is a strong argument for a 50-basis point hike at tomorrow's Bank of England's meeting," said Charles White Thomson, CEO at Saxo UK.

"The bank needs to take the initiative quickly. The risk for further policy failure is real, and the stakes are getting increasingly high."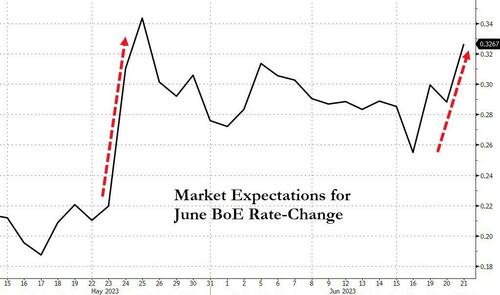 Source: Bloomberg
Chancellor Jeremy Hunt acknowledged the numbers were difficult for families and businesses across the UK and challenging for the government.
"We will not hesitate in our resolve to support the Bank of England as it seeks to squeeze inflation out of our economy, while also providing targeted support with the cost of living," he said.
Interestingly, despite the surge in rate-hike expectations, and rise in short-dated gilt yields (highest since 2008) Cable weakened...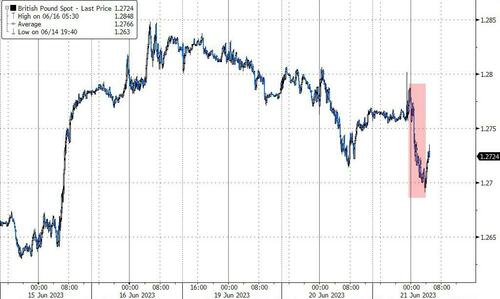 Source: Bloomberg
...because, as Stuart Cole, chief macro economist at Equiti Capital in London, explained: "It is looking increasingly likely that it will require a recession to finally get the inflation genie back into the bottle."
As Mohamed El-Erian wrote for Bloomberg, this is all concerning news, especially as it points to
Higher borrowing costs for all — households, companies and the government.

Greater risk of stagflation that would see disappointing growth accompany high inflation.

Worsening of inequality that is already too high.
Additionally, as The FT reports, adding to fears for the UK outlook, net government debt rose above 100 per cent of gross domestic product for the first time since 1961, separate data on Wednesday showed.
Finally, El-Erian reminds investors, today's UK data serves as a reminder to all that there is a real cost to falling behind in the inflation battle, and one that increases over time. It erodes the credibility of policymaking when it's already struggling to respond to more complicated problems. And the damage it wreaks on societal wellbeing is amplified by the poorest segments being hit particularly hard.
Loading...