---
Chick-Fil-A To Test New "Drive-Under" Concept, Larger Kitchens To Increase Efficiency
Of all the new fast food drive-thru concepts we have written about over the years, Chick-Fil-A may be on the verge of the coolest.
The popular chicken chain is testing a new concept where to-order orders will arrive at their destination vehicles down a chute. It plans on testing the concept at a new store in Atlanta, with a focus on trying to cut down its wait times, CBS wrote this week.
The chain will also be debuting a new walk-in concept store in New York City. 
In a statement the store put out this week, Khalilah Cooper, executive director, restaurant design, said: "Digital orders make up more than half of total sales in some markets – and growing – so we know our customers have an appetite for convenience."
Cooper continued: "Understanding this desire for convenience, the locations for these tests were intentionally selected with the customers in mind, giving them more control over their desired experience and cutting down wait-time, while continuing to provide genuine hospitality and care to every guest."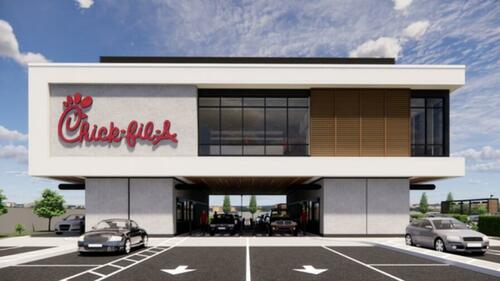 The new Atlanta store is going to have 4 drive-thru lanes, with two of them dedicated to mobile order pickups. The lanes will run under the restaurant, instead of around it, like current stores. This will allow the kitchen in the new concept store to be twice as large. 
"Orders will travel through an overhead conveyor belt connected with chutes that run down the sides," CBS wrote. 
"By building the kitchen above the drive-thru lanes, meals are expedited to the Team Member who delivers the order directly to the customer in a space protected by the upper level, so hospitality won't be sacrificed for speed of service. Regardless of how you choose to order your meal, the restaurant design is made to elevate and accelerate the experience but keep the human interaction at its core," the company said in its statement. 
"We want to leverage technology to elevate the human touchpoints in our restaurants," said Cooper. "These new digital formats make the customer and Team Member experience more seamless, and therefore more memorable, and give back precious time to connect with each other."
Loading...