---
China Bans Negative Economic Commentary, Mentions Of "Deflation"
The last time China threatened its analysts and reporters against being "bearish" on the economy and "at odds with the government's bullish statements" was in early 2016 when China had just suffered through a historic devaluation and capital flight which drained over $1 trillion in Chinese reserves, and when fears that failing to short-circuit the capital flight (which would soon launch Bitcoin off from its base around $400 to the then-cycle high of $20,000) could lead to full-blown economic collapse.
As the WSJ reported at the time, the "stepped-up censorship" was an effort by Beijing to "quell growing concerns about the country's economic prospects as it experiences a prolonged slowdown in growth," and that to stem what earlier this year was a flood of money leaving the country, Chinese regulators and censors are trying to create a climate dubbed "zhengnengliang," or "positive energy", said the newspaper.
In short: Beijing realized that it was of critical importance to preserve confidence in the economy, no matter how fake, and it resorted to the ultimate step indicating that a collapse was nigh.
Well, China is doing it all over again, which in keeping with this mornings catastrophic Chinese trade data, confirms just how close to the edge China once again is.
As the FT reports, Chinese authorities are (again) putting pressure on, which is a polite way of saying barring, prominent local economists to "avoid discussing negative trends such as deflation, as concerns mount about Beijing's ability to boost a flagging recovery in the world's second-biggest economy."
According to the report, "multiple local brokerage analysts and researchers at leading universities as well as state-run think-tanks said they had been instructed by regulators, their employers and even domestic media outlets to avoid speaking negatively about topics ranging from fears of capital flight to softening prices."
Seven well-regarded economists told the Financial Times that their employers had told them some topics were off-limits for public discussion. The China Securities and Regulatory Commission, the stock regulator, has accused brokerage analysts of playing up risks facing the economy, which is suffering from weak consumer demand, declining exports and an ailing property sector.

Two think-tank scholars and two brokerage economists, all of whom serve as government advisers, said there was pressure to present economic news positively in order to increase public confidence. "The regulator doesn't want to hear negative comments about the economy in public," said an adviser to the central bank. "They wanted us to interpret bad news from a positive light."
Needless to say, but the FT says so anyway, analysts noted that growing self-censorship among economic research professionals, on whom investors often rely in a market where reliable data is difficult to come by, underscored Beijing's efforts to control the flow of information.
"You've got an economic slowdown that would worry any country, coupled with a China that always likes to put on a brave face to the world and a leadership that is particularly image-conscious," said Andrew Collier, managing director of Orient Capital Research in Hong Kong. "Put those three factors together and it's the recipe for a very non-transparent economy."
The clampdown of negative economic commentary follows a barrage of dismal economic data that has undermined investor confidence and hindered Beijing's efforts to spur a robust post-Covid rebound. Gross domestic product expanded just 0.8 per cent in the second quarter against the previous three months. Last month, the Communist party's politburo admitted the recovery was making "tortuous progress".
More awkwardly, with Beijing seeking to restore faith with limited stimulus measures, certain subjects are taboo, such as deflation.
China's producer price index has declined for eight straight months since October, while annual consumer inflation hit a two-year low of zero growth in June. Citigroup economists said core goods prices, which strip out volatile food and energy costs, had already entered a "deflationary zone" thanks to weak consumer demand.
Yet senior officials from the country's official statistics bureau and the central bank have ruled out the possibility of deflation. "Deflation does not and will not exist in China," Fu Linghui, a National Bureau of Statistics spokesperson, said last month.
In response to this bizarre crackdown, Albert Edwards correctly pointed out that "When this happens it screams crisis" and reminds readers of his recent article discussing precisely this: that China is now in deflation.
When this happens it screams crisis...

The FT reports (link below), "Chinese economists told not to be negative as rebound falters: Authorities... want analysts to avoid mention of deflation risk".

Fear not. I will keep mentioning the unmentionable! https://t.co/WqPnB2UTLU pic.twitter.com/J5yPwgsDp5

— Albert Edwards (@albertedwards99) August 7, 2023
And what makes it even more awkward is that in just a few minute, (western) economists expect that China will report that it is officially in deflation when it reveals that its CPI for the month of July dropped negative after printing at 0.0% last month, the lowest level in over two years...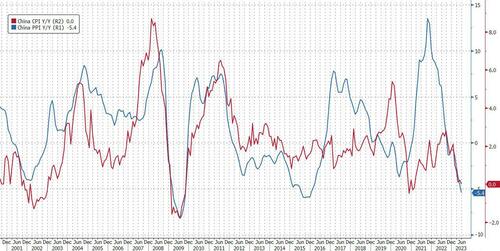 ... although since this is China, odds are that CPI will come in just barely positive and all shall be well... or else we are about to see a whole lot of imprisoned Chinese economists, analysts and strategists.
Loading...