---
China Facing "Bigger Debt Crisis Than Evergrande" In Under 30 Days
The undisputed credit event of 2021 - a year when rates around the globe were near all time lows and bankruptcies were virtually unheard of - was the default and collapse of Chinese property giant Evergrande, which many feared would drag down the entire Chinese financial system due to its hundreds of billions in real-estate linked liabilities if the state didn't step in (in the end, Beijing did help but in a much more subdued way than the bull-in-a-China-store nationalizations from the country's recent history).
Fast forward two years and China is again emerging as the venue of what may be the year's biggest default, one which - according to Bloomberg - could spark a "debt crisis that rivals China Evergrande Group's default."
On Monday, Country Garden Holdings, formerly China's largest private sector developer and headed by China's formerly richest woman, Yang Huiyan, officially entered a technical default grace period, failing to pay interest on two bonds and leaving investors in the dark after dollar bondholders said they've yet to receive coupon payments. That puts the firm—which had 1.4 trillion yuan ($199 billion) of total liabilities at the end of last year—on course for its first public default if it doesn't make the payments within the 30-day grace period.
Until recently the largest private-sector developer by sales in a country who property market was estimated by Goldman as the largest single asset in the world...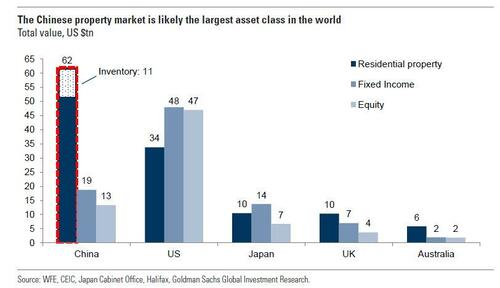 ...  the builder of more than 3,000 housing projects in smaller cities has long been a household name and employed about 70,000 (soon to be unemployed) people at the end of last year.
While the company's giant footprint and massive balance sheet had given it dry powder to withstand the industry cash crunch that started in 2021 and has continued to date, leading to record defaults since Evergrande first missed bond payments, tumbling home sales and soaring refinancing costs are not only threatening that streak, but have exhausted the company's reserves. And now, the company has less than a month to avoid default.
"Any default would impact China's housing market more than Evergrande's collapse as Country Garden has four times as many projects," Bloomberg Intelligence analyst Kristy Hung wrote in a report Wednesday adding that "any debt crisis at Country Garden will have a far-reaching impact on China's housing market sentiment and could significantly weaken buyer confidence on solvent private developers."
The news of the imminent default did not shock the bond market, which had been bracing for this outcome with Country Garden's bonds already trading at deeply distressed levels.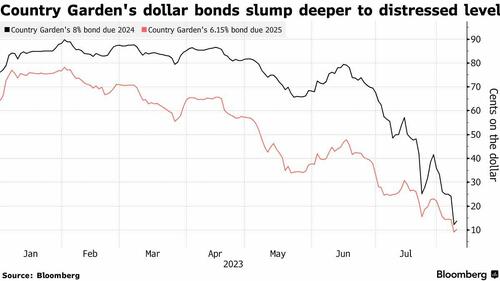 Holders of the two securities said they hadn't received the coupons as of Wednesday afternoon, and the firm didn't respond to questions about whether it had made the payments. The developer's next dollar bond to mature has dropped as low as 11 cents, while Country Garden's shares plunged as much as 8.9% in Hong Kong on Wednesday to reach the lowest level since November 2022, and three brokers have downgraded the stock which has continued to slide.
The plunge in the company's bonds have fed into broader unease in the Chinese high-yield dollar bond market, where average prices have dropped deeper into distress at about 67 cents—near the lowest this year.
Meanwhile, Beijing pretends that it is somehow immune to another crash in the housing market, and home sales in China are once again falling and dashing hopes that policy steps to prop up the industry would spur a lasting rebound. And with creditors demanding prohibitively high yields to lend more money, even Country Garden was forced to say this week that the refinancing situation has crimped its cash flow.
As Bloomberg notes, the company, which has developments in almost every province in China, is the latest developer to be jolted by the crisis in the nation's real estate industry. Its annual report shows that about 60% of its projects are located in so-called Tier 3 and Tier 4 cities, which usually have a smaller population and weaker housing demand.
Country Garden was established in Foshan City in China's Pearl River Delta region in 1992. Chairman Yang Huiyan has a fortune of $5.5 billion, making her the country's fourth-richest woman, according to the Bloomberg Billionaires Index. Yang is the daughter of founding chairman Yeung Kwok Keung who transferred his stake to her in 2005. She succeeded
him as sole chairman earlier this year.
As an aside, while still filthy rich, Yang has seen her fortune slump by 84% since its peak in June 2021, including a drop of 8.2% on Tuesday alone, according to the Bloomberg Billionaires Index. Her fortune has shrunk by $28.6 billion from its peak, when she was Asia's richest woman, leaving her with a net worth of $5.5 billion. That's the biggest dollar decline among the ultra-rich tracked by Bloomberg's wealth index over that period.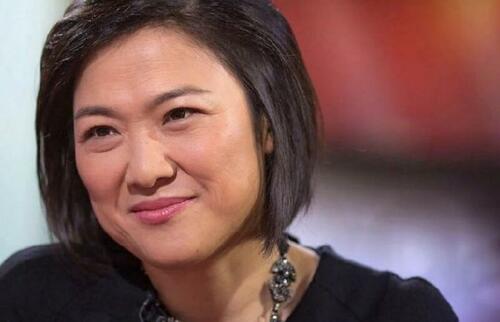 The 41-year-old tycoon's wealth is mainly derived from her stake in Country Garden, whose shares have dropped almost 60% this year as tumbling home sales and soaring refinancing costs hit China's real estate industry. Yang agreed last month to transfer more than half her personal stake, worth about $826 million, to a charity founded by her sister. She'll retain the voting rights.
In a script right out of succession, Yang's father co-founded Country Garden in 1992 and transferred a controlling stake to her in 2005 after she joined the company as his personal assistant to learn the ropes and eventually succeed him.
She became China's richest woman at age 25, after Country Garden raised $1.65 billion in a Hong Kong initial public offering in April 2007. In 2023, she took over as the sole chair after her father resigned, citing his age.
Yang fall from grace is not unique: China's property tycoons have seen their wealth eroded after the government cracked down on excessive borrowing in the industry in 2020, making it hard for developers to refinance swelling debts. The ensuing cash crunch triggered record offshore defaults, wiped out billions of dollars of investments, and delayed construction of thousands of homes. Prior to the collapse, rapid expansion of the residential property sector made Yang, Hui and their peers some of the wealthiest people in the nation.
* * *
The question now is whether the grace period will be cured in the last minute or if the company will default. The prolonged slump in China's property sector has brought previously sound companies to their knees, with the likes of Central China Real Estate, a state-backed developer, repeatedly using grace periods to buy time before stopping payments. In July, creditors of a unit of Dalian Wanda Group Co. and state-backed Sino-Ocean Group Holding Ltd. received coupons at the last minute.
Developers using grace periods for coupon payments "is a bad signal that reflects tight liquidity," said Iris Chen, a credit desk analyst at Nomura International HK Ltd. But distressed developers might not care that much as their bonds are already trading at low cash prices, she added.
Loading...