---
China's Crashing Loans Show Risk of Beijing Acting Too Late
By Charlie Zhu and Helen Sun, Bloomberg markets live reporters and strategists
Three things we learned last week:
1. China's economy weakened further in July but Beijing was slow to arrest the decline. The nation's banks extended the smallest amount of monthly loans since 2009, and aggregate financing was less than half the level forecast by economists.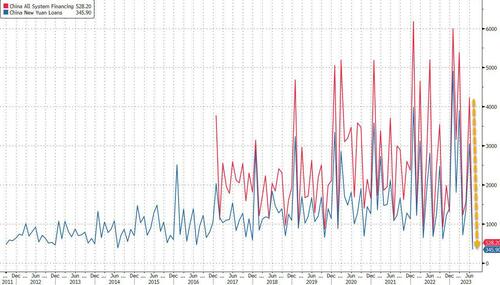 Worse, loans to the real economy plummeted to RMB 36.4BN, the lowest since 2006. As Goldman notes, "last week's print underscores the weak demand in the economy and the need for the government to implement more easing measures."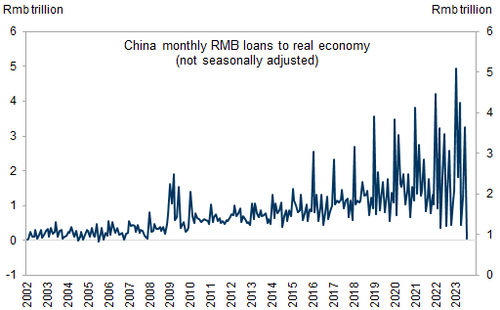 In addition, both consumer and producer prices fell in July from a year ago, the first time since 2020 that both sets of prices registered a decline. This is taking place as companies are slashing prices to jumpstart consumption, underscoring the deflationary pressure that's building in China.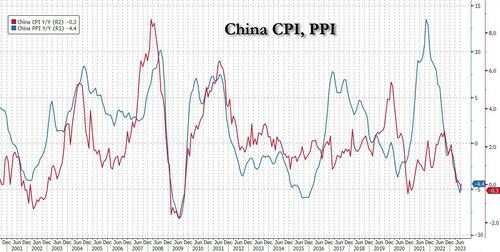 The trade outlook is looking similarly dire. Overseas shipments dropped in July by the most in more than three years, and imports contracted for a fifth consecutive month. While it's not surprising to see the former shrinking due to slowing global growth, sustained weakness in the latter is worrying as it suggests that domestic demand is also faltering.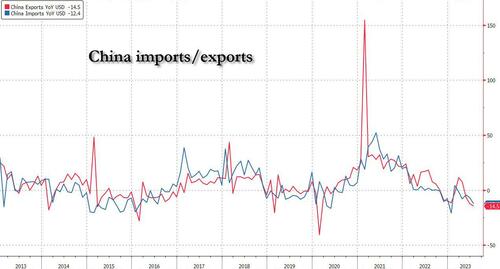 "The credit demand is very subdued," said Lu Ting, chief China economist at Nomura Holdings Inc. "The key remains to send clear policy signals regarding the private sector, foreign companies and the real estate industry, so that people become willing to borrow money and invest, including in housing."
Meanwhile, Country Garden Holdings Co.'s troubles reflect the impact of a delay in rolling out forceful housing market policies: once the country's top builder, the developer has become a penny stock as it was said to be considering a move to extend some of its notes that will fall due soon. This is adding to the overall gloom surrounding Chinese assets.
Country Garden's liquidity situation may deteriorate as sentiment weakens, and Bloomberg Intelligence analyst Kristy Hung warns that a default would impact the housing market more than China Evergrande Group's collapse as the former has four times as many projects as the latter.
It's a vicious cycle. As builders struggle to deliver homes, buyers will refrain from purchasing, which will crimp sales further. The crisis of confidence shows no signs of abating with home sales down the most in a year in July. The securities regulator held a meeting with developers on Friday, after the central bank organized a similar session. Is help on the way?
* * *
2. Elsewhere, an anti-corruption campaign aimed at the pharmaceutical industry is invoking memories of previous government crackdowns. Local media reported that as of July 26, the number of hospital executives being probed for allegedly violating laws and regulations was double the tally registered in the whole of last year. The CSI 300 Health Care Index dropped to the lowest since September, reflecting growing jitters about the crackdown.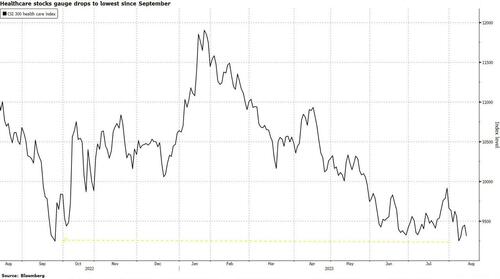 In another discouraging sign, a central bank adviser's call to treat the private sector and state-owned firms equally was deleted from a top think tank's social media account, a sign of how sensitive the issue is even as the ruling Communist Party vows to support private enterprise.
* * *
3. Given that things are looking so glum, authorities are taking incremental steps to bolster economic growth and contain the risks. The finance ministry was said to be looking to allow provincial-level governments to raise about 1 trillion yuan ($138 billion) via bond sales to repay the debt of local-government financing vehicles and other off-balance sheet issuers.
In another bit of good news, the nation has also lifted a ban on group tours to a slew of countries including the US, UK, Australia, South Korea and Japan, setting the stage for a rebound in domestic and global tourism.
"Without sugar-coating economic developments in China, digging beneath the surface, things are probably slightly less bad than they appear at first glance," Paul Danis, head of asset allocation at RBC Brewin Dolphin, wrote in a note Thursday before the credit data was released. It seems unlikely that China will fall into a balance-sheet recession like Japan, but the main risk is that Chinese authorities may make a number of bad policy choices, he wrote.
Loading...