---
Details In Multiple Reports Are Telegraphing That Inflation Will Become A Big Issue In The Months Ahead
By Alyce Anders, Bloomberg Markets Live reporter and strategist
US inflation indicators have simmered down in recent months, but increasing economic activity will put the heat back on. That will bring a rise in short-term rates and a deeper inversion in the yield curve.
Investors have been given false hope with softening in key indicators such as CPI, PPI and ISM prices paid indexes. That's good news, but shouldn't be over-interpreted. Details in multiple Federal Reserve surveys and PMI reports are telegraphing inflation will become an issue in the months ahead.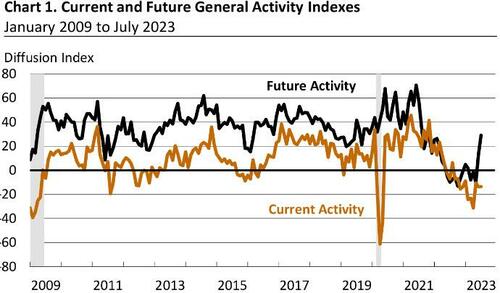 Services, manufacturing (see chart above from the Philadelphia Fed Manufacturing report last week) and even small business reports give a consistent message — business is going to pick up in the next six months. With that in mind, companies have already caved in to strike demands. And many have plans to raise wages and compensation to lock in an ample workforce. This will continue to bolster the US consumer, already the most confident in two years. That will complicate the path of US interest rates.
With the labor market strong and the consumer ebullient, price increases are likely to continue to be effortless. S&P Global's preliminary survey for July noted its output price index has been a reliable leading indicator of CPI — anticipating the easing of US CPI to 3% in June. But its recent fluctuation suggests further declines in CPI below 3% may prove tricky as firms seek to pass through higher costs and interest payments to customers. The labor intensive service sector, where inflation remains sticky due to its correlation with wages, has recently seen output price increases steeper than long-run averages, according to S&P's report.
There are other signs inflation will make a comeback. The Baltic Dry Index, a measure of commodity shipping costs, rose more than 10% this week and gasoline touched the highest since October. Purchasing managers will quickly translate that into transportation surcharges — another cost that will be forced on to customers. Food inflation is evident with grain prices soaring on dry weather and Russia's announcement it would regard ships heading to Ukraine's Black Sea ports as potentially carrying arms. Inflationary pressures are building for the second half for insurance companies as they push for catastrophe, home and auto premium hikes.
Meanwhile, the near 20% gains in US stocks this year also create an inflationary wealth effect that is exaggerated by loosening in financial conditions — more inflationary signs.
Fed Chair Jerome Powell Wednesday said he does not envision inflation getting down to 2% before 2025 and, with demand set to improve, there is a lot that can go wrong on the inflation front between now and then.
Investors are preparing. They bought 10-year inflation-protected securities at a record pace last week. The benchmark spread between 2- and 10-year Treasury yields is also reflecting inflationary risks as it threatens cycle tights.
Loading...