---
Dick's Shrinkage Slams Stock
Update (1010ET):
Dick's Sporting Goods Inc. shares plunged 24% at the cash session open -- the most on record -- because of "shrinkage."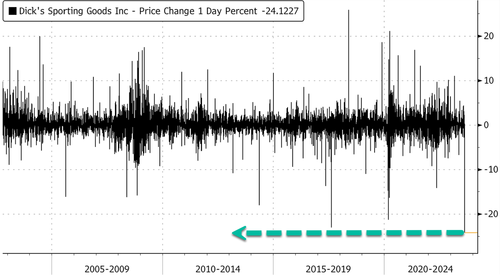 *   *   * 
Dick's Sporting Goods Inc. shares crashed Tuesday in premarket trading in New York after the largest sporting goods retailer cut its full-year profit forecast due to rampant thefts at stores nationwide.
Dicks reported $2.82 per share in adjusted profit for the second quarter, which ended in July, on sales of $3.22 billion. Analysts tracked by Bloomberg estimated $3.81 per share on $3.24 billion - a sizeable miss. 
Here's the earnings snapshot:
Adjusted EPS $2.82, estimate $3.81

EPS $2.82

Net sales $3.22 billion, estimate $3.24 billion

Gross margin 34.4%, estimate 36.3%

Inventory -5%

Total location count 860, estimate 868 

Dick's Sporting Goods stores 725, estimate 730

 Comparable sales +1.8%, estimate +2.58%
Dick's blamed "elevated inventory shrink" at retail stores for second-quarter woes. It also lowered adjusted earnings per share guidance for the full year. 
"We are pleased with our strong sales performance for the second quarter led by robust transaction growth and continued market share gains. Within the quarter, sales accelerated significantly in July, and we remain confident in delivering positive comp sales for 2023. While we posted another double-digit EBT margin, our Q2 profitability was short of our expectations due in large part to the impact of elevated inventory shrink, an increasingly serious issue impacting many retailers. Despite moderating our 2023 EPS outlook, the enthusiasm we have for our business and the confidence we have in our long-term growth opportunities have never been stronger," Lauren Hobart, President and Chief Executive Officer, wrote in a statement. 
Here's the full-year outlook snapshot:
Sees adjusted EPS $11.50 to $12.30, saw $12.90 to $13.80, estimate $13.47 (Bloomberg Consensus)

Sees EPS $11.33 to $12.13, saw $12.90 to $13.80, estimate $13.47

Sees gross capital expenditures $550 million to $600 million, saw $670 million to $720 million

Still sees comparable sales 0% to +2%, estimate +1.37%
The results were enough to send Dick's shares crashing, down 20% in the premarket. All gains this year have been wiped out.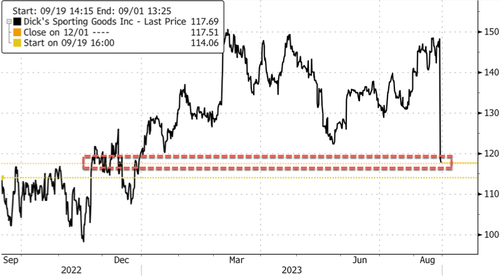 There was also a report from Bloomberg that Dick's plans to fire 250 corporate employees in a cost-savings move.  
The soaring thefts at Dick's stores seem less shocking when considering that The DICK's Sporting Goods Foundation and its partner The Beyond Sport Foundation have "supported the protests to ensure that black lives matter." Many of these social justice protests have championed the call to defund the police. Now, years into this grand experiment of progressive utopia, the blowback of these failed policies is wreaking havoc, with out-of-control thefts at retailers nationwide. 
Careful what you wish for, retail giants... 
Loading...