---
These Are The Dirtiest Cities In America
Baltimore is the dirtiest city in the United States, a new study from HouseFresh has laid out this week. The city received 47,295 complaints over the course of the last 365 days, according to the analysis. 
The same study found that Milwaukee is the cleanest city in America, with only 309 complaints over the same period of time. Riverside is not far behind, the study noted, with just 1,609 complaints.
The study found that 21213 is the dirtiest individual zip code in Baltimore, with 89,391 complaints about sanitary issues. The cleanest zip code in America is in Houston, 77546, which had just 19 sanitary-related complaints. 
Houston had 5 of the 6 "fewest complaint" zip codes in the study, while Baltimore had 7 out of the 10 dirtiest.
The analysis looked at the 12.3 million sanitation-related 311 complaints in a series of U.S. cities as part of its methodology. From there, it "calculated the number of these complaints per 100,000 population, both on a city level and on a zip code level" before ranking the cities based on zip codes and complaint density.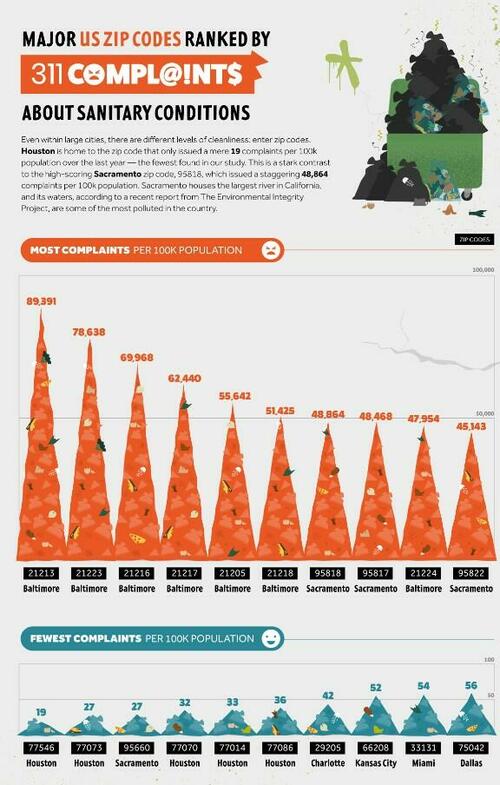 The study looked at 644 categories related to sanitation issues, grouping them with terms like "waste" and "recycling". Finally, the study crunched the zip codes that each complaint came from. 
Baltimore was in close company with Sacramento and Charlotte, who received 34,186 and 31,112 complaints about sanitary conditions, respectively. Then came LA, Memphis and Boston, rounding out the top 6 dirtiest cities.
In New York, Brooklyn was found to be the dirtiest zip code, using the same analysis. Though the city has "a surprisingly low complaint rate of 3,728 per 100k population", the study notes that 7,664 complaints came from Brooklyn. New York's sanitation complaints pale in comparison to its west coast counterpart, LA, which had 21,616 complaints per 100,000 population. 
The cleanest zip code in New York was New Hyde Park, 11040, which had only 176 complaints. In LA the neighborhood with the most complaints was found to be Mission Hills and the cleanest, per the data, was found to be Inglewood. 
West Englewood is home to the dirtiest zip code in Chicago, while Friendswood has that honor in Houston. South Philadelphia took the crown in the city of brotherly love. 
Loading...