---
Ecuador's Outspoken Anti-Narco Presidential Candidate Assassinated In Broad Daylight
Ecuador has declared a countrywide state of emergency for 60 days the morning after presidential candidate Fernando Villavicencio was gunned down at a campaign rally in the capital, Quito.
Video of the assassination is widely circulating, showing an assassin firing multiple shots at close range while Villavicencio entered his vehicle on a crowded streets. He had just spoken at a high school before an audience of young supporters.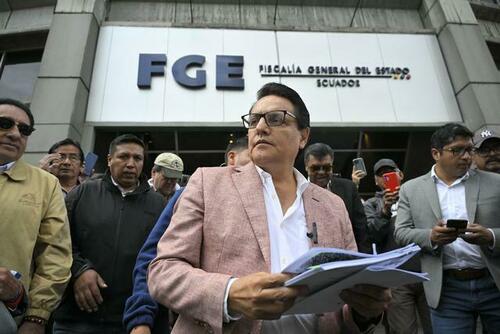 "When he stepped outside the door, he was met with gunfire," a member of Villavicencio's campaign team said of the candidate. "There was nothing to be done, because they were shots to the head."
Villavicencio, a legislator in the National Assembly, has been tireless in speaking out against organized crime, drug trafficking, and government corruption. Among his talking points on the campaign trail has been that Ecuador is a "narco state" being led by the "political mafia".
This is why in the aftermath of his killing, it's being widely blamed on those very criminal elements. He was by far the most vocal candidate against the drug traffickers and corrupt dealings with the state. He was also a former investigative journalist, having years ago exposed government corruption and bribery deals related to the oil industry.
The suspected gunman died in police custody after being wounded at the scene in a shootout with security personnel. The attack additionally injured nine people and two police officers.
#BREAKING ‼️⚡️ Ecuadorian presidential candidate Fernando Villavicencio ASSASSINATED during a campaign event pic.twitter.com/z1jp9XDEPi

— What the media hides. (@narrative_hole) August 10, 2023
Outgoing Ecuadorian President Guillermo Lasso announced on social media that he is "outraged and shocked by the assassination" and blamed the killing on "organized crime". This after over the past half-decade the Andean nation has seen crime run rampant. 
The national prosecutor's office has in follow-up said multiple security raids had been done in response to the assassination and that six people who are suspected in the conspiracy have been detained. 
There are currently reports that a Ecuadorean narco-gang has taken responsibility...
Meanwhile, The New York Times has summarized of the country's recent and growing crime woes:
Narco gang claims responsibility in assassination of Ecuadorian presidential candidate.

Easy to see why Bukele has prioritized eradicating these forces in El Salvador. pic.twitter.com/5SyVPiSE7s

— Citizen Free Press (@CitizenFreePres) August 10, 2023
"Foreign drug mafias have joined forces with local prison and street gangs, unleashing a wave of violence unlike anything in the country's recent history," and further notes "Homicide rates are at record levels."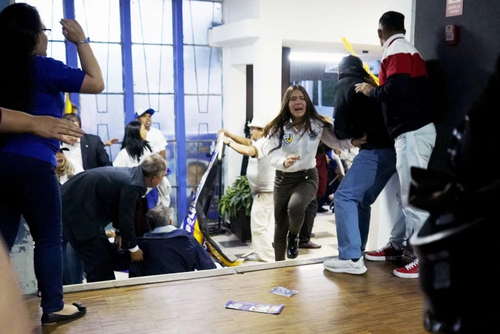 The report continues, "Today, the violence is often horrific and public, meant to induce fear and exert control: There are regular reports of car bombings, beheadings and children being gunned down outside their schools."
Loading...