---
Europe Enters Recession After Data Revisions Paint Far Gloomier Economic Picture
The US may have avoided a technical recession so far, but Europe's run has just ran out: according to the latest data revisions by European statistics agency Eurostat, the euro zone economy was in a technical recession in the first three months of 2023, after downward revisions of growth in both the first quarter and the final quarter of 2022.
Gross domestic product for the 20-country euro zone fell by 0.1% in the first quarter compared with the fourth of 2022 and was 1.0% up from a year earlier, Eurostat said in a statement. This was the second consecutive 0.1% decline (after the Q4 2022 GDP print was also cut to -0.1% from a previous reading of zero) and the first six-month contraction since the Covid-19 pandemic lockdowns as a technical recession was confirmed.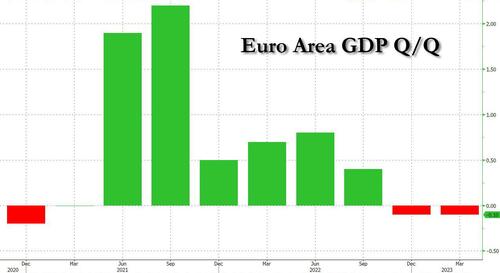 The revised numbers were below the flash estimates of 0.1% and 1.3% published on May 16; economists had forecast on average respectively zero and 1.2% expansion.
The euro area's first-quarter weakness was down to a drop in government and household spending, with inventories making a negative contributions and trade supporting output.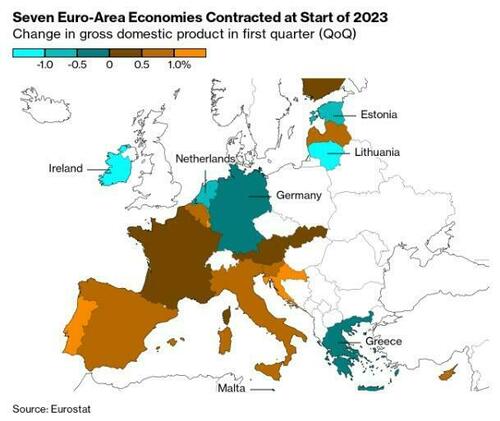 The culprit, as so often happens in Europe, was Germany: according to Reuters the revision was principally due to a downward revised 2nd estimate from Germany's statistics office showing that the euro zone's largest economy was in recession in early 2023. Meanwhile, the contraction in Ireland's economy widened to 4.6% from a preliminary estimate of 2.7%, although this negative was due to the impact of large multinationals on growth there (as a reminder, much of Irish GDP is a function of how much tax evasion giant corporations can get away with; apparently they got away with less then originally expected).
Along with Germany and Ireland, GDP also declined quarter-on-quarter in Greece, Lithuania, Malta and the Netherlands.
The sneaky downward revision continues a trend observed first under the Biden administration of releasing laughably stronger than expected initial economic prints, then quietly revising them (much) lower a few months later when nobody cares. A recession had been expected towards the end of last year as the euro zone wrestled with high energy and food prices and as a post-pandemic spending boom faded, but initial estimates had suggested the region had avoided this. Apparently not.
Capital Economics said the outlook for the euro zone economy was poor, with a contraction likely again in the second quarter as the impact of higher interest rates fed through.
S&P Global Market Intelligence said it forecast a pick-up in the second quarter, led by the service sector, followed by a subsequent slowdown and a risk of a new recession in late 2023, or early 2024, as tighter financial conditions took effect. In other words, we may get a modest rebound... and then a double dip.
Despite injecting billions of euros into the economy over this period (mostly in the form of energy price subsidies), policymakers will likely be disappointed that they still failed to avoid a 'technical' recession... so the lesson is - even more subsidies next time.... especially since a double dip recession now appears inevitable after a modest rebound in Q2 and/or Q3.
Bloomberg's Maeva Cousin notes that: "This revision doesn't affect the overall picture: the economy is weak, but not crashing. We expect growth to resume from 2Q23, but stay subdued through 2023, as headwinds from tighter financing conditions and faltering global demand keep a lid on activity."
That was evident in the lack of movement in the Euro, or in market-implied rate-change expectations, with another hike expected next with the terminal rate expected in July.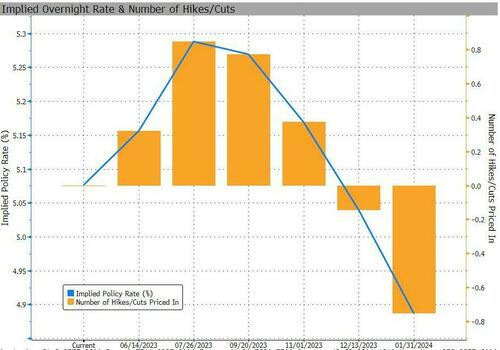 And this comes as Lagarde warned earlier in the week that there are no signs that inflation has peaked yet.
Loading...