---
Fallout From Mount Etna Eruption Shutters One Of Italy's Largest Airports
Mount Etna, Europe's most active volcano, erupted overnight, prompting the closure of one of Sicily's largest airports.
NEW - The airport at Catania in Sicily, a top Italian tourist destination, has halted all flights after a new eruption at nearby Mount Etna

READ: https://t.co/DmjIr2hRG7

pic.twitter.com/YWiAShR9Fw

— Insider Paper (@TheInsiderPaper) August 14, 2023
Sicily's Catania international airport announced "all arrivals and departures" were "prohibited" because of the "eruptive activity of Etna." The airport's website showed cancelations of Ryanair Holdings Plc, EasyJet Plc, and Wizz Air Holdings Plc flights to and from Catania. 
🔴🔴 Causa attività eruttiva dell'Etna e contestuale ricaduta di cenere vulcanica, le operazioni di volo sono sospese fino alle ore 20.
Per info contattare il vettore

Due to Etna's eruptive activity and fallout of volcanic ash, flight operations are suspended until 08:00 pm

— Aeroporto di Catania (@CTAairport) August 14, 2023
A Notice to airmen (NOTAM) on the ForeFlight flying app read airport operations were closed "due to volcanic ash fallout and contamination of runways 08/26. The NOTAM is expected to expire late Monday.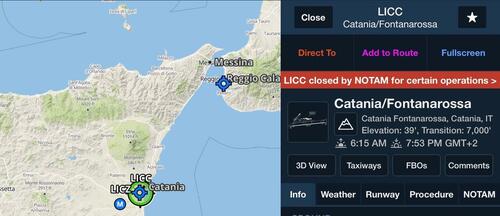 Catania Airport was set to handle 235 incoming and outgoing flights, ranking it the sixth most active airport in Italy, based on data provided by the analytics company Cirium.
Delays and diversions are underway at Catania Airport (CTA) following the eruption of Mount Etna. Let's use Flightradar24's weather feature to look at the situation. ⬇️ pic.twitter.com/v7nArOOA7t

— Flightradar24 (@flightradar24) August 14, 2023
Mount Etna erupted in May for the first time in three decades. Ash pouring from the volcano's southern sector is dangerous for aircraft and can damage jet engines. 
The modern world found out in 2010 just how disruptive volcanic activity can be for flight travel. 
Loading...