---
Family Forced To Pay To Transfer Body Of Marine Killed In Botched Afghanistan Withdrawal
Authored by Efthymis Oraiopoulos via The Epoch Times (emphasis ours),
The family of one of the 13 fallen U.S. Marines in the 2021 Afghanistan withdrawal was asked to pay $60,000 to transfer her body to Arlington National Cemetery, according to her family.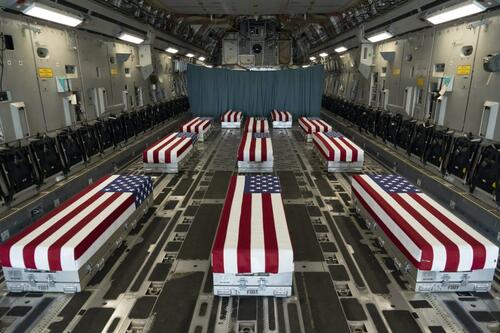 Rep. Cory Mills (R-Fla.) was the first to make this known after contacting the fallen Marine Corps Sgt. Nicole Gee's family, Fox reported.
Mr. Mills told Fox that he was "enraged to learn that the Department of Defense had placed a heavy financial burden" on Gee's family.
Because of a change in legislation, the Department of Defense (DOD) is no longer obliged to pay for the transfer of fallen service members, according to Mills's office.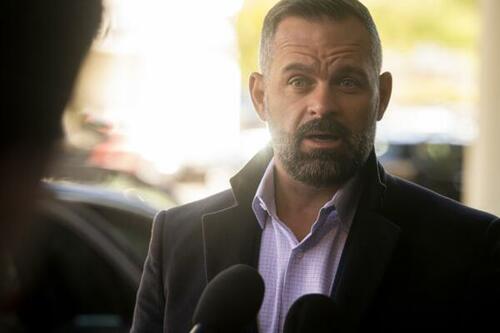 Christin Shamblin, Gee's mother-in-law, told Fox that the DOD paid to transfer her body to Sacramento, California, Gee's place of residence and recruitment station, where services were held. When Gee's family wanted to transfer her body to Arlington National Cemetery, they learned that the cost was $60,000, according to Gee's husband.
As her husband was trying to find a solution, a nonprofit, Honoring Our Fallen, contacted him offering to transfer the body with a private flight.
Gee's family wasn't clear on how to move her body to Arlington, saying the process was complicated.
Mr. Mills said the responsibility should fall on the DOD and not burden the family of the fallen with a "staggering $60,000" bill.
"It is an egregious injustice that grieving families were burdened to shoulder the financial strain of honoring their loved ones. This is an unacceptable situation that demands immediate rectification," he said.
A Pentagon spokesperson told Fox:
"Through the transfer of remains process, Marine Corps casualty assistance officers were in direct communication with Sgt. Gee's family, and they remain in contact today. In the case of Sgt. Gee, the Marine Corps stayed consistent with its policy that all costs associated with internment be borne by the government. At this time, we have no record of any incurred charges or any pending requests for reimbursement associated with the transportation of Sgt. Gee's remains to Arlington National Cemetery. The Marine Corps takes very seriously the transfer of remains of our Marines—they never leave a Marine behind, and they care for the families of their fallen Marines."
Honoring Our Fallen founder Laura Herzog said she was "honored to work directly with Sgt. Nichole Gee's family after she was killed in Afghanistan."
"The Marine Corps flew her remains to California so the people of Sacramento could pay her their respect," Ms. Herzog said. "Sgt Gee's family then decided they wanted her interred in Arlington National Cemetery. To avoid having Sgt. Gee's remains be transported via a commercial airline, I personally secured an in-kind donation of a flight in a private aircraft. Sgt. Gee's family accepted the donation of a flight, and Honoring Our Fallen, as a nonprofit 501 (c3), accepted the in-kind donation."
She noted that no "monies were exchanged or expected to be paid by our organization or the family."
"This was a donation made by a veteran who donated this service to us to assist us in honoring Sgt. Gee," Ms. Herzog said. "We are proud of our support to Sgt. Gee and her family. It takes a village, and I am proud of our communities that came together to honor and support her sacrifice."
Read more here...
Loading...