---
Fani Willis Scolds Jim Jordan For 'Illegal Intrusion' Into Her Trump Hunt
Fulton County, GA District Attorney Fani Willis (D) fired off a nastygram to House Judiciary Chairman Jim Jordan (R-OH), who she says is trying to 'interfere with and obstruction [sic] this office's prosecution' of Donald Trump and 18 other defendants, after Jordan asked her to turn over all documents related to the case.
Willis argues that Jordan's federal powers to investigate are "not unlimited," and that "there is no justification in the Constitution for Congress to interfere with a state criminal matter, as you attempt to do."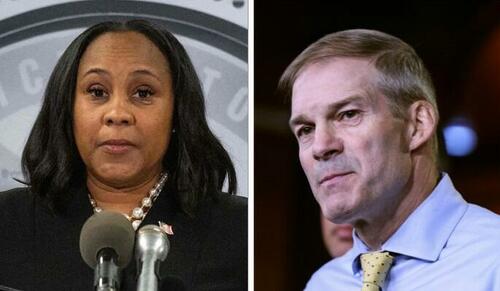 In Jordan's original Aug. 24 letter to Willis, he suggested that Willis is trying to interfere with the 2024 election for which Trump is the front-runner for the GOP nomination, adding that her investigation might infringe on the free speech of Trump and other defendants.
On Thursday, Willis accused Jordan of peddling "inaccurate information and misleading statements" which improperly interfered with a state criminal case.
"Its obvious purpose is to obstruct a Georgia criminal proceeding and to advance outrageous misrepresentations," Willis wrote of Jordan's letter. "As I make clear below, there is no justification in the Constitution for Congress to interfere with a state criminal matter, as you attempt to do."
According to the Atlanta Journal-Constitution, Jordan's letter came 10 days after a Fulton County grand jury indicted Trump and 18 other people for their roles in an alleged scheme to overturn the 2020 US election.
Trump faces charges in four separate criminal cases even as he solidifies his place as the leading Republican candidate for president next year. Many Republicans believe the prosecutions are political.

In recent days, some Georgia Republicans have pushed to impeach or sanction Willis, though Gov. Brian Kemp has rejected such proposals. In Washington, Jordan's committee has launched an investigation to determine whether federal and Fulton County authorities have coordinated their Trump prosecutions.

In his letter, Jordan noted that Willis began her investigation of Trump in February 2021 but "did not bring charges until two-and-a-half years later, at a time when the campaign for the Republican presidential nomination is in full swing.
"Moreover, you have requested that the trial in this matter begin on March 4, 2024, the day before Super Tuesday and eight days before the Georgia presidential primary," wrote Jordan. "It is therefore unsurprising many have speculated that this indictment and prosecution are designed to interfere with the 2024 presidential election."
Read the letter to Jordan below:
Loading...