---
Fed Balance Sheet Plunges By Most In Over 3 Years As Retail Money-Market Inflows Continue
Money market funds was outflows of over $7BN last week - the biggest weekly outflow since July - inching the total assets back from record highs...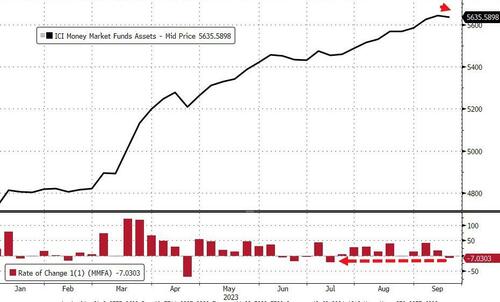 Source: Bloomberg
The net outflow was driven by institutional funds losing over $14.3BN (while retail funds saw $7.3BN inflows - the 22nd straight week of retail money market fund inflows)...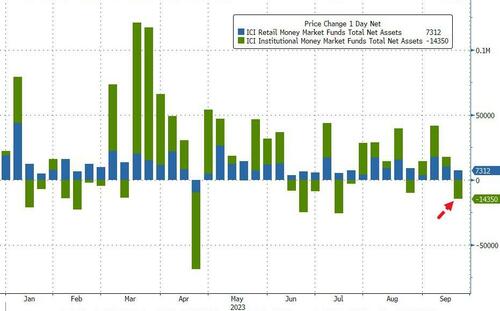 Source: Bloomberg
Is the decoupling between bank deposits and money-market funds beginning to converge?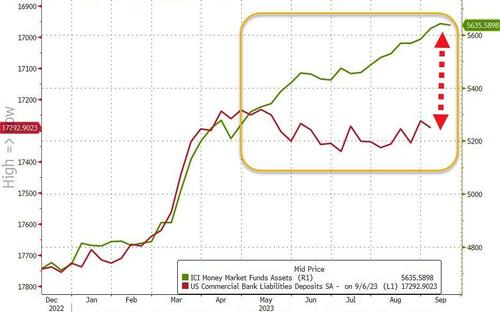 Source: Bloomberg
The Fed's balance sheet plunged by almost $75BN last week - its biggest weekly drop since July 2020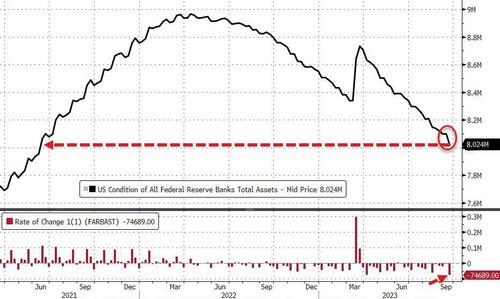 Source: Bloomberg
With regard to The Fed's QT program, it sold down $26BN in securities last week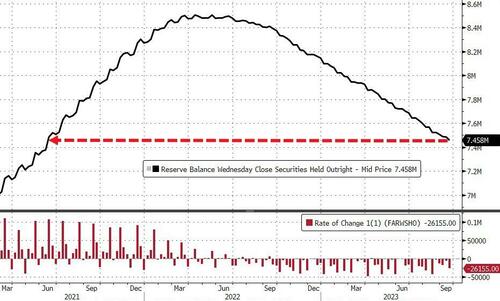 Source: Bloomberg
Banks' usage of The Fed's emergency funding facility remains around $108BN (a modest decline on $394mm last week)...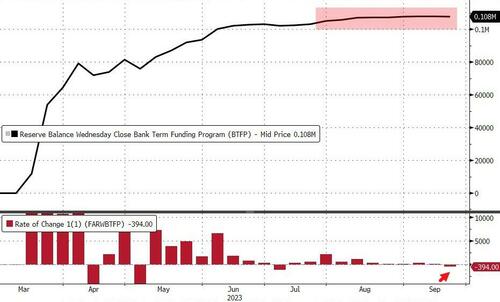 Source: Bloomberg
The full breakdown shows a big slidew in 'other credit extensions'
QT - notes and bonds - declined by $17BN to $4.238TN

MBS declined by $4BN to $2.499TN

Discount Windows increased by $0.4BN to $3.1BN

BTFP dropped by $0.4BN to $107.6BN

Other credit extensions dropped by $48BN to $85BN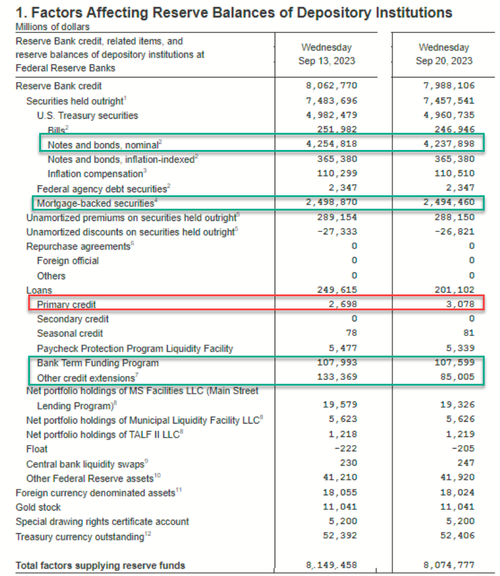 The gap between bank reserves at The Fed and the US equity market cap diverged again...
Source: Bloomberg
Finally, we leave you with one thought - in 6 months and counting, America's 'smaller' banks will need to find that $100-billion plus from somewhere as that is when the BTFP bailout program ends (theoretically). Will regional bank balance sheets be stabilized by then?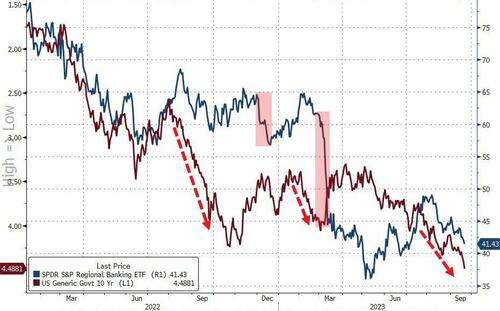 Source: Bloomberg
Given the current bloodbathery in bond-land, we suspect we will know sooner rather than later.
Loading...